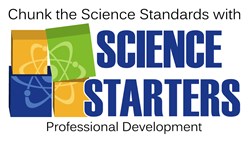 An innovative process for teaching the core ideas of science.
Orange, TX (PRWEB) September 12, 2013
Scientific Minds, LLC has released online professional development training for educators called "Chunk the Science Standards." The new training is bundled with the purchase of any Science Starter product: Elementary Science Starters, Middle School Science Starters, Biology Starters, and Chemistry Starters. Science Starters break down (or "chunk") state and national science standards into hundreds of digital lessons that bring visual clarity to core science ideas through images, graphics, and animations.
The 6-hour professional development was designed to guide educators through Scientific Minds' research-based process for teaching science at any grade level, K-12. Effective science teachers know their subject and use quality core content resources to support project-based learning. Scientific Minds has created an innovative process for teaching the core ideas of science by incorporating Science Starters, which are aligned to the Next Generation Science Standards (NGSS) and state standards, with any curriculum. Scientific Minds' own research shows that students who use Science Starters retain these core ideas.
The teacher training is delivered through Scientific Minds' new professional development platform, which is available in the user account. Educators can view the training modules in a group setting or individually from any computer with internet access. Modules include flip teaching, strategies for remediation and intervention, the 5E instructional model, learning with NGSS and state standards, and many more. As they view short video modules and complete lesson-planning activities, teachers reflect on the instructional process and answer questions in the Scientific Minds' response system. Administrators can log in to view these teacher responses as well as module completion dates. The system automatically generates a certificate for the teacher upon completion of the training.
The new "Chunk the Standards" professional development is bundled with the purchase of any Science Starters product. A teacher can purchase an individual product account directly, and school and district administrators can purchase a campus-wide license based on student population. Scientific Minds also provides onsite professional development. Learn more at http://www.ScientificMinds.com.
About Scientific Minds, LLC
Scientific Minds, LLC publishes online resources for K-12 science education. Founded in 2007 by a Texas science teacher, Scientific Minds, LLC provides tools and processes to enhance science instruction and includes strategies to support all students. The company mission is to develop quality, web-based educational products that inspire, encourage, and promote next-generation skills for student success.