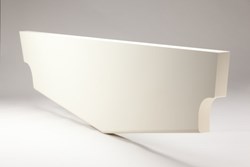 General Plastics has a long history and solid track record supplying high-quality, cost-effective solutions to our marine-industry partners.
Tacoma, WA (PRWEB) September 15, 2013
General Plastics Manufacturing Company is participating in the 2013 International Boat builders Exhibition and Conference (IBEX) taking place September 17-19 in Louisville, Kentucky, USA. The world's leading technical boat-building showcase, this event focuses on innovative products and processes, education, and accelerating new product development. General Plastics will feature its specialty marine and submersible foam products, closed-cell foam core material, and tooling boards at Booth 1628 in the Kentucky Exposition Center.
The 2013 event is expected to attract more than 4,500 boat builders, yacht designers, naval architects, engineers, surveyors, boatyard/marina operators, manufacturers, fabricators and laminators, among other marine industry professionals. In 2012, IBEX attendees represented some 31 countries and 46 states.
"General Plastics has a long history and solid track record supplying high-quality, cost-effective solutions to our marine-industry partners," said President Bruce Lind. "Our advanced foam products, which offer a high strength-to-weight ratio, are particularly sought out by manufacturers as a proven alternative to wood materials, because they do not absorb water or degrade."
Marine industry-focused products include:
LAST-A-FOAM® TR Marine FRP Foams – These high-density polyurethane marine-grade products provide structural strength with moisture resistance, enabling boat builders to replace wood components with a top-quality non-decaying product that is fully compatible with fiberglass-laminating production methods. They serve as core material for building transoms, hulls and bulkheads, and also provide a long-lasting, cost-effective choice for polyurethane boat interiors. Boat builders specify our TR Marine foam sheets to insulate fish boxes, bait wells and marine fiberglass bait freezers.
LAST-A-FOAM® R-3300 Submersible Foam Series – Tested to depths of 775 feet, these hydrostatic pressure-resistant foams provide buoyancy for underwater flotation applications. They offer outstanding resistance to penetration by moisture and saltwater, making them ideal for permanent flotation in semi-deep submersible craft. They are also used in resin-transfer molding as a core material, and in underwater pumps for offshore drilling rigs. The series has even been used in support of training operations for the International Space Station, providing flotation for assembly components in pools that simulate weightlessness.
LAST-A-FOAM® FR-7100 Multi-Use Core and Modeling Board Series
This uniform foam board provides low-cost FRP core material for many boat-building applications. Easily finished and painted, this economical, versatile and stable series is also ideal for hand-carved models and prototypes. These products are formulated to meet the demands of composite boat builders at competitive prices for seat mounting pads, steering wheel mountings, decks and bulkheads.
Marine industry OEMs also rely on General Plastics' LAST-A-FOAM® composite core and tooling boards, which bond securely with fiberglass laminating resin systems. Their excellent bonding ability also enables manufacturers to create monolithic foam blocks, needed to design large finished molds for yacht hulls and other oversize, limited-run tools. They are available as large blocks to minimize bond lines.
Multiple advantages as a strong, affordable alternative to traditional materials
The company's uniquely formulated high-density foams offer a durable, versatile and cost-effective alternative to traditional materials in many marine applications. First, they are an optimal wood replacement: Because these closed-cell foams do not absorb water, General Plastics' marine polyurethane products do not rot, warp, bow or delaminate. In addition, LAST-A-FOAM tooling material is a superb replacement for metals during prototyping and other short-run, large-scale tooling and mold applications where metal dies are cost-prohibitive.
About General Plastics Manufacturing Company
Tacoma, Washington-based General Plastics has been a leading innovator in the plastics industry for more than 70 years. The company develops and manufactures rigid and flexible polyurethane foam products, which include its signature LAST-A-FOAM® brand series and build-to-print composite parts. Through its network of distributors, General Plastics exports products to 25-plus countries for the aerospace and defense, nuclear containment, composite core, prototype and modeling, construction, dimensional signage, testing, marine, and renewable energies industries. General Plastics is certified to ISO 9001:2008/AS9100C, ITAR compliant, and meets such demanding quality systems as NQA-1, Mil-I-45208A and Boeing Company D6-82479. Visit http://www.generalplastics.com.