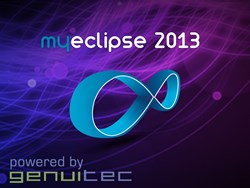 MyEclipse 2013 Eclipse Java for building and deploying mobile apps while incorporating Spring and IBM WebSphere capabilities for popular devices
Dallas, Texas (PRWEB) September 17, 2013
Genuitec, LLC, a founding member of the Eclipse Foundation and a leader in Cloud Control technologies, is pleased to announce the inclusion of Mobile Tools and 2013 standards for the MyEclipse 2013 Eclipse Java Service Release 2 Spring and Bling builds. Customers are now able to build and deploy mobile apps while incorporating Spring and WebSphere capabilities for popular devices with the established Mobile Tool feature set (HTML5, jQuery) in MyEclipse 2013.
"We are positively thrilled to be releasing the Bling and Spring builds of MyEclipse 2013," said Brian Fernandes, product manager for MyEclipse at Genuitec. "Much of the Genuitec client base utilizes Spring (SpringSource) and IBM WebSphere functionality; now we're able to give them an avenue to take that high-level functionality and weave in HTML5, jQuery mobility to their projects."
Both the MyEclipse for Spring and Bling builds have been brought up to the full tool standards of the MyEclipse 2013 release with enhanced Maven support. Maven support has been amplified to allow for one-click Maven integration for projects as well as the ability to add Maven capabilities to new or existing Java, EJB, Web, and EAR projects that can be managed from within MyEclipse IDE.
Most notably, the Spring and Bling builds for MyEclipse 2013 SR2 will feature the Mobile Web Simulator (SIM), designed to give developers the ability to rapidly design and map out apps with hot-synch functionality. JQuery Mobile support and User Template support have been added to speed up mobile development by allowing for quick application prototyping with the ability to instantly view changes to image and styling in the SIM.
Bling users will notice an expansion of the Portal Server support with the newly included WebSphere Portal Server version 8.0.
Other overall enhancements for MyEclipse Spring and Bling in 2013 SR2
Web Fragment support
Improved project wizards
Added easier and smarter project migration
Expanded project libraries
Over 100 Spring bug fixes
Subscriptions to MyEclipse Spring and Bling are available annually for $99.95 and $249.95 USD respectively, available for download and purchase at: http://www.myeclipseide.com. All editions come with a free 30-day trial. Free trial users and those with current subscriptions receive all updates at no cost; enhanced service agreements are now available and vary in cost.
About Genuitec
With year-over-year growth since the company was founded in 1997, Genuitec follows a "Cloud Control" approach and continues to expand by offering superior products to enterprises at value-driven cloud prices. With a laser focus on mobile development for the enterprise Java user, its products are used by more than 17,000 global enterprises which include 80 perfect of Fortune 500 companies. Genuitec maintains a vibrant community through its support forums where users engage directly with staff to answer any number of technical needs. Genuitec is constantly evaluating market opportunities for new areas of growth and expansion of its current application lifecycle management and mobile tools; in addition, Genuitec has launched a new product in each of the last 5 years. As fully distributed and virtual workforces, the company maintains a low overhead, yet attracts the most talented software developers.
Genuitec is based in Flower Mound, Texas and is founding member of the Eclipse Foundation along with IBM, Intel and HP.
Please follow Genuitec's latest news by joining "MyEclipse" on Facebook and on Twitter @Genuitec, @MyEclipseIDE.