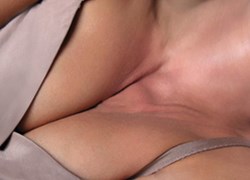 Sculptra is my favorite product, it gives soft natural gradual results that never look fake.
Boston, MA (PRWEB) September 12, 2013
Masha Banar, board certified physician associate and medical director of Visage Sculpture, has always been an innovator in her field. Her plastic and reconstructive surgical background and years of experience allowed her to experiment with the most products she uses "off label", Sculptra being one of them. "It's not an understatement to say that Sculptra is my favorite product," says Banar PA-C. "It gives soft natural gradual results that never look fake."
Vertical lines on the chest bother a majority of women after 30s (NY Times article on "Cleavage Wrinkles"). Like anywhere else in the body after a certain age the skin of the chest loses collagen and elasticity. A lot of people sleep on their sides and compress the chest during sleep which leaves deep marks that get worse with time. Lasers and creams can only help so much, that's where Sculptra comes in with its magical results.
Sculptra Aesthetic is a product owned by Medicis. It is a collection of Poly-L-Lactic acid crystals that are suspended in sterile saline. When injected into the skin crystals create trauma-like inflammation, which in turn stimulates collagen production. Though the process is slow (up to 6 weeks), results are worth the wait-collagen looks and feels very natural and stays for up to 2.5 years. Banar PA-C has been using Sculptra for cosmetic indication long before it was approved for it (originally Sculptra was approved for treating HIV-related face wasting only, and she was one of the few people in Boston who offered the treatment). By the time FDA has finally approved Sculptra for cosmetic indication in 2009 Masha has seen how beautifully the product worked and was some of the most experienced injectors in Boston (FDA Sculptra approval). Since then she has done a lot of "off label" treatments like softening surgical and acne scars with it, treating skin irregularities after liposuction, and treating the chest lines.
To date there is no ideal treatment of the chest wrinkles, however Sculptra has an advantage as results are natural and very long lasting. It can take 2-3 treatments to achieve desired skin texture, usually spaced 6 weeks apart. Bruising and swelling are common side effects.
About Visage Sculpture
Visage Sculpture is premier cosmetic center dedicated to helping people look and feel more attractive, refreshed, and youthful in the most natural gentle way. Founded by Masha Banar, board certified physician associate, with more than a decade of experience in plastic and reconstructive surgery, it has been featured on ABC News for its unique alternatives to surgical procedures.
Masha is a national educator for Sculptra Aesthetic and teaches facial anatomy and injection techniques to physicians and nurses. Her extensive experience combined with artistic background and intuitive appreciation of proportions of the face brings ease to all procedures offered.
Complimentary consultation can be scheduled by calling at (617)501-7055 or via e-mail. Office is located at 31 Channing Street, Newton Corner, MA 02458.