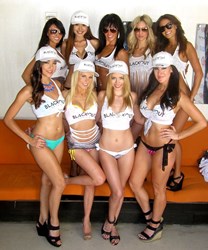 "Las Vegas is by far the highest paying market for electronic artists, yet none of the world's top DJs are from here. We will change that."
Las Vegas, Nevada (PRWEB) September 13, 2013
The team that created JackColton.com, Kalika Moquin —10-year veteran of the nightlife industry with seven years of marketing experience as a director for leading Las Vegas nightclubs—and JackColton.com's founder and operator, Jack Colton, are proud to launch Blackout Artists, Las Vegas' premier DJ Management company, now representing and booking six of the city's most recognized and talented DJs, with 11 on the full roster.
Blackout Artists' roster features two of today's best open format DJs, who have headlined the largest main rooms on the West Coast, both individually and as a duo: DJs Ikon and Karma. VH1's 2013 Master of the Mix star DJ Loczi is also in the mix, as well as the world's largest DJ, Derrick "Big D" Anthony, locals favorite DJ Que, and emcee Sir Pearce.
Blackout Artist is a DJ management company that focuses on maintaining everyone's best interests at heart. Venues that book Blackout Artists DJs not only receive top-quality talent, but also an additional array of marketing advantages. Collaborating with the artist, Blackout Artists delves into the details of each event and works with the nightclub's marketing team to develop a promotional strategy that achieves the most important thing: bringing a great party and more people to the venue.
Blackout Artists held its official launch party in August, kicking things off in the afternoon at Liquid Pool Lounge at Aria, then concluded its five-week long talent search at Lily Bar & Lounge in Bellagio with winner DJ Reaction. Everyone then headed to Haze Nightclub in Aria for the main event, where DJ Que rocked the decks with Sir Pearce on the mic before Ikon and Karma performed an explosive 2-by-4 set. Rounding out the night, DJ Loczi kept the club going into the early morning hours.
"Blackout extends a huge thank you to everyone who came our to support an amazing launch, and of course to Liquid Pool Lounge, Lily Bar & Lounge and Haze Nightclub for hosting the party, our industry family, and guests," Moquin says. "An incredible time was had by all, and the photos speak for themselves."
Media inquiries and booking:
Kalika Moquin
Blackout Artists
6767 W. Tropicana, Suite 223
Las Vegas, NV 89103
Direct: 702.241.7327
kalika(at)blackoutartist(dot)com