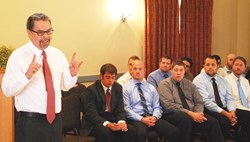 David Z was a really passionate speaker and we were honored to have him.
(PRWEB) September 17, 2013
David Zdrojewski , the CEO of laser alignment company VibrAlign, spoke at Northwest Renewable Energy Institute's class graduation September 4th in Vancouver, Washington. VibrAlign donated a top of the line laser shaft alignment system, the Fixturlaser NXA Pro, to the school. Zdrojewski also awarded $500 scholarships to two graduates based on essays they had written about shaft alignment.
The relationship between Northwest Renewable Energy Institute (NW-REI) and VibrAlign arose through former NW-REI instructor Joel Gentleman who currently works at VibrAlign. He was in attendance to present an advanced laser alignment tool that will be on loan to the school for one year for training purposes.
Gentleman also alerted NW-REI to VibrAlign's new Realigning America scholarship program. Every year VibrAlign will be awarding twelve $500 scholarships to the students who submit the best essays on the importance of properly aligned machinery.
"David Z was a really passionate speaker and we were honored to have him." said NW-REI Program Manager Jason Bodily. "After his generous contributions to the school this year, it was only natural to invite him to speak. I think our graduates learned a lot from him"
Zdrojewski founded VibrAlign in 1983 and has been serving as CEO since 1996. VibrAlign, committed to realigning America, has served an array of industrial customers from defense contractors to paper makers and specializes in alignment systems, training, calibration and field service.
For more information, call the International Air & Hospitality Academy at (360) 695-2500. School information can be accessed online at http://www.aha.edu.
Educators and students can learn more about Realigning America Scholarship program by going to http://www.VibrAlign.com/training/AlignmentEDU.