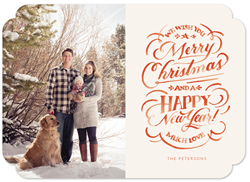 "Minted's design community has once again blown away our expectations," said Mariam Naficy, Minted CEO. "As usual, they have made this the most beautiful holiday card assortment in the world."
San Francisco, CA (PRWEB) September 17, 2013
Minted (http://www.minted.com), the global design community and e-commerce site, today launched 550 new holiday card designs sourced from its 6th annual holiday card challenge. A record-breaking 3,348 submissions were received in this year's 'Oh What Fun' holiday card challenge, beating 2012's previous record of 2,641 submissions. From Philadelphia to the Philippines, from Berlin to Baton Rouge, independent graphic designers from around the world submitted designs to this year's challenge.
The first prize of $8,000 – the largest individual cash prize in Minted's history – was awarded to Jill De Haan of Salt Lake City, UT for her design "Hand Lettered Christmas Wishes". De Haan's design received the highest scores as voted upon by consumers and her fellow designers. The winning design features a red watercolor "Merry Christmas and Happy New Year!" greeting surrounded by red flourishes. It was designed with Minted's 'Classic Frame' shape in mind.
Guest judges in this year's holiday challenge were:

Vanessa Holden, Senior Vice President and Creative Director of West Elm
Michael Boodro, Editor in Chief of ELLE Décor
Victoria Smith of SF Girl by Bay
Leila Lewis of Inspired by This
Guest judges chose their favorite holiday card design which will each launch on Minted's site. Vanessa Holden chose "Ticket to Joy" by San Francisco designer Spotted Whale Design. "Combining seasonal sentiment with great graphics and a slew of family fun facts, I love how this design allows the sender to truly personalize their holiday message - right down to including their family motto for 2013! Oh what fun indeed!" said Holden.
Michael Boodro chose "Wonderful Merry" by Chica design, out of Atlanta.
Victoria Smith chose Georgia designer Kelli Hall's "Jingle Brights". "I like the nostalgic feeling of the vintage framed photograph," says Smith. "It reminds me of my old family photographs. And I like it combined with the fun, bold typeface. It just stands out to me, and it's a card I'd be likely to post on my fridge!"
Leila Lewis selected "So Much Merry" by San Francisco-based Lizzy McGinn. "While the design is a little more simple, that's why I fell in love with it," says Lewis. "The focus is left to the image. It's not an in-your-face holiday card, which means it can stay on someone's fridge long past New Years!"
"Minted's design community has once again blown away our expectations," said Mariam Naficy, Minted CEO. "As usual, they have made this the most beautiful holiday card assortment in the world. Our customers will be thrilled by all of the unique new choices in our collection this season."
Free Recipient Address Printing on All Holiday Card Orders:
Unlike any other retailer, Minted will offer recipient address printing with any purchase of holiday cards. Customers may upload their address books or request addresses from friends and relatives via email or Facebook. Minted prints addresses on the front of the envelopes and ships the printed envelopes with the customer's holiday cards, at no additional charge.
Luxe Paper Options:
Minted continues to offer the most luxurious paper options in the industry:

Signature Paper, which is the thickest in the photo card industry at 15.5 points; its 30 percent cotton content adds a luxurious, soft texture usually reserved for fine stationery. Holiday cards on Minted's signature paper start at $1.21 per card.
Minted's 360 lb, TripleThick™ luxury holiday cards start at $3.00 per card.
Minted's new DoubleThick holiday cards are accessibly-priced at $2.48 per card.
Minted also offers 9 unique die-cut shapes, including tag, wave scallop, scalloped circle, and curved frame.
In addition, Minted is the only major online retailer that offers photo cards printed on 100 percent post-consumer recycled paper and on pearlescent paper.
The Top Twenty Winners of the Holiday Card Challenge
1. Hand Lettered Christmas Wishes, by Jill De Haan
2. Bright and Chalky, by GeekInk Design
3. We Are Family, by Oscar & Emma
4. Holiday Revelry, by Design Lotus
5. Joy, Peace & Love, by Morgan Newnham
6. Woodland Wreath, by Kristie Kern
7. Wordsmith, by Wondercloud Design
8. Oh Baby Baby, by Jess Taich
9. Modern Archive, by Sarah Curry
10. Brushed Gold, by kelli hall
11. merry holly, by Fig and Cotton Paperie
12. Most Wonderful, by Hooray Creative
13. Golden Bright, by Melanie Severin
14. Holly Jolly Wishes, by Griffinbell Studio
15. Glittering Joy, by Lehan Veenker
16. Merrily Scripted, by GeekInk Design
17. Add Me To Your List, by Carolyn MacLaren
18. Say it again, by Jennifer Wick
19. Among the Leaves, by Olivia Kanaley
20. Spreading Joy, by chica design
About Minted:
Minted is a venture-backed design community and e-commerce site, crowd-sourcing graphic designs and content from a global design community and selling those as premium printed products focused on the $10 billion stationery market, the $48 billion wall art market, and the $7 billion party décor market. Investors include Benchmark Capital, Menlo Ventures, IDG Ventures SF, Yahoo! CEO Marissa Mayer, and Yelp CEO Jeremy Stoppelman.
All the designs featured on Minted are sourced through design competitions and curated by the community. The company holds ongoing competitions, giving designers and artists the opportunity to submit their work. Those voted to the top are sold on the site. Designers earn cash prizes and commissions on all their sales.
Minted has radically transformed what consumers now expect in holiday cards, wedding invitations, framed art, party décor, and other personal stationery. Minted's fresh, unique designs have been featured on The Today Show and The Early Show, and in Real Simple, Town & Country, InStyle, Martha Stewart Weddings, Food & Wine and other major national magazines.