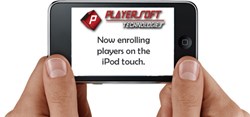 When clients come back for Mobile Enrollment at sister properties, we know we're on the right track.
San Diego, CA (PRWEB) September 16, 2013
Jimmy Buffett's properties continue to embrace Playersoft's products with Margaritaville Resort Casino Bossier City's opening utilizing Mobile Enrollment on the Apple iPod Touch. The system scans driver's licenses allowing casino staff to enroll new guests into the players club anywhere on the casino floor.
"We are pleased with the performance of the Playersoft devices," says Barry Regula, Senior Vice President and General Manager of Margaritaville Resort Casino Bossier City. "These hand-held devices have made assisting our casino guests more convenient. The speed in which we are able to process a request has allowed us to reduce transaction times, therefore putting the guest into action quicker. We look forward to continuing to capitalize from the benefit of this product."
Mobile Enrollment allows a property to remove the inconvenience of signing up for players club benefits and gives staff an opportunity to be more personally involved with the guest experience. "Advances in mobile technology are creating a new wave of how casinos manage not only the tracking and identification of players, but the affordability to do so," says Tony de Leon, President of Playersoft. "Since Margaritaville has launched Mobile Enrollment at a second property, it's another indicator they are seeing the positive effects of the platform in revenue, guest service and controlling expenses."
Utilization of an Apple iPod Touch makes the entire system small, lightweight and easy to use. "We've been casino operators ourselves," says de Leon. "Through our experience in Las Vegas resorts and Native American gaming operations, we know the importance of making the casino player's visit convenient and hassle free regardless of a property's size. Mobile Enrollment was designed specifically to do that. lt streamlines the enrollment process while creating improved data accuracy during the sign up process and profitability in a number of ways."
"The system is a powerful mobile application with a straight forward and easy to use interface," says Vice-President of Technology, Hunter Hunstock. "lt's really satisfying when a client uses the product at one property, then comes back for more."
Mobile Enrollment also features an offline mode allowing staff to reach out to players at offsite events adding even greater reach and furthering the player's experience and creates a positive impression of the level of service the casino is willing to provide. lt is part of a suite of products offered by Playersoft which all utilize the iPod Touch technology allowing each platform to interact together and with any current casino system.
To see the entire Playersoft suite of products visit booth #4117 in Las Vegas at G2E-2013.