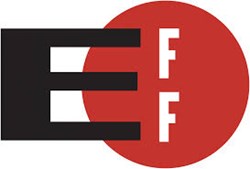 Everybody gets so much information all day long that they lose their common sense. --- Gertrude Stein
(PRWEB) September 18, 2013
AncestorEbooks.com announces The Electronic Frontier Foundation will hold their 22 Annual Pioneer Awards on 19 September, 2013 in San Francisco, CA.
The Pioneer Awards began in 1992 for the recognition of those who worked to increase the innovations in technology and protect the rights and freedoms in the realm of technology. [eff.org/awards/pioneer/2013] Past winners have been Richard Stallman, an advocate of free software, Beth Givens a privacy rights activist, and Douglas Engelbart, inventor of the mouse and an internet pioneer.
This year's winners are Aaron Swartz, James Love, and Glenn Greenwald and Laura Poitras. (eff.org/awards/pioneer/2013)
Aaron Swartz co-wrote the RSS web feed when he was only 14 years old. He also helped to create the Internet Archives' Open Library. Mr. Swartz founded the group Demand Progress which was instrumental in blocking the SOPA and PIPA internet censorship bills. (eff.org/awards/pioneer/2013)
James Love helped lead the international battle for access to knowledge, which defends the rights of everyone to free speech, privacy for more than 20 years. He is the director of Knowledge Ecology International and helped with the adoption of a "global intellectual property treaty". This treaty allowed for fair use rights to transform written material into accessible formats. (eff.org/awards/pioneer/2013)
Glenn Greenwald and Laura Poitras took the information leaked by Edward Snowden, a well known whistleblower, and made them into a narrative able to be understood by all. The information in these stories led to outrage around the world and admissions from the U.S. government about the extent of their surveillance. (eff.org/awards/pioneer/2013)
Electronic Frontier Foundation is a donor funded, nonprofit group created to support digital rights, defend free speech, privacy, innovation, and the rights of consumers. (eff.org/about)
Gayla Mendenhall of AncestorEbooks says, "Digital Rights are an important topic to anybody who uses the internet. Especially with a site such as AncestorEbooks in which all of your information is kept private unless you choose to share your information with others."