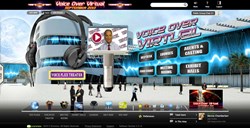 Voice Over Virtual is a way to further your skills and fill in the gaps in your education.
(PRWEB) September 17, 2013
Voice Over Virtual (http://www.VoiceOverVirtual.com), the online conference that opens Wednesday September 18 and runs through November 30, 2013 is still accepting registrations for all those who want to take advantage of a novel approach to voiceover training and education. To help jump-start or advance a voice over acting career in audiobook narration, commercials, corporate narrations, animation and more, participants will have 24/7 access to online sessions about voice acting tips, business and marketing savvy, home studio set-up, audiobooks, and many other topics, from 50+ top industry professionals.
"Anyone who is looking for a job as a voice over talent—from New York to Los Angeles, and all points in between and beyond—can benefit from attending the Voice Over Virtual conference," said event producer John Florian, founder of VoiceOverXtra, LLC, (http://www.voiceoverxtra.com) a leading education and training resource for the voiceover industry. "If anyone is still sitting on the fence, there's still time to sign up," he said. "All you need to attend is an Internet connection."
From Sept. 18 to 20, participants will have access to all the voice over coaching and training that's online, as well as opportunities to go into virtual meeting rooms and exhibit halls to network and chat with presenters, exhibitors, casting agents, and others. After those three days, all presentations will be available on-demand. "The beauty of this conference is that there are no expenses for travel or hotels, and attendees can learn on their own schedule any day of the week, any time of the day, for the next two months," said Florian.
So what's on the conference agenda? Who are some of the voiceover coaches and what will they teach? Here's a preview of some of the schedule:

A pro-on-pro interview about the audiobook narration process, with 2013 Audie Award-winners Katherine Kellgren and Simon Vance.
Lessons and reflections on 35 years of talking for a living, by Harlan Hogan
How to record a distinctive voiceover demo, by Joe Loesch
Animation audition techniques, by MJ Lallo
Home studio basics: what you need to know, by Dan Lenard
Good acting vs. bad acting: a demonstration, by Pat Fraley
20 mistakes to avoid in online auditions, by James Alburger and Penny Abshire
How to quote rates to get what you deserve, by Susan Berkley
How to sound like you're not reading, by Marc Cashman
The future of voice over, a panel moderated by Edge Studio's CEO David Goldberg
In addition, the schedule includes more than 40 other sessions for newcomers to mid-level and advanced voice over professionals.
Voice Over Virtual has elements of fun and novelty, with a treasure hunt game and an animated platform, says Florian, but the primary benefit is education and career training for voice over talent. Randye Kaye, a professional voice over artist who has had a successful career working in radio, commercials and audiobooks, and who will be a presenter at the conference, agrees.
"As a voice over talent, you need to know how to attract clients, communicate with clients, invoice clients, and run a home studio. You need to run a train on four tracks: acting and technique, marketing, business skills, and home studio skills. Voice Over Virtual is a way to further your skills and fill in the gaps in your education. In any profession, you have to be constantly educating yourself," says Kaye.
To sign up for Voice Over Virtual, visit http://www.voiceovervirtual.com. You can also Like the event at http://www.facebook.com/VoiceOverVirtual, and Follow it at https://twitter.com/voiceovervirtua.