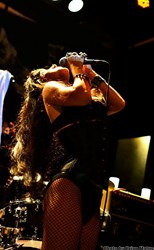 New York, New York (PRWEB) September 19, 2013
NYC based quartet Vajra have confirmed that they will play the Invasion of the Go-Girls Showcase at the Dewey Beach Music Conference and Festival this Saturday, September 21 at 11pm. The Dewey Beach Music Conference and Festival has garnered more than its fair share of critical acclaim and rave reviews and has hosted a number of talented acts including Halestorm. The Conference hosts three nights of showcases and two days of demo & mentoring sessions, tradeshow and industry meet & greet events.
En route to the festival, Vajra also announced that they will play a special midnight set on Friday September 20 at The Legendary Dobbs in Philadelphia.
The band recently played The Mercury Lounge in NYC, the Utica Music & Arts Festival, BSP Lounge in KIngston and will wrap up their Fall tour in Poughkeepsie at The Chance for the WPDH Roofathon event on Sunday, September 29.
Vajra is quickly generating a buzz after selling-out their first show in November, 2011 (at The Bowery Electric in NYC). Virgin America selected Vajra's single "Erode The Will" for their In-Flight Entertainment Series in December, 2011, and the single was also selected for the Red Gorilla SXSW 2012 Compilation and the Go-Girls Music Fest 2012 Compilation. The Band also was selected as a Supercuts Rock The Cut Ambassador. The band has played to sold-out audiences at: The Bowery Ballroom (NYC), The Mercury Lounge (NYC), The Bowery Electric (NYC) and also performed 2 shows at The Red Gorilla Music Festival and the Texas Rockfest down at SXSW 2012 and completed a successful West Coast tour in Summer 2012, performing at Sylvia Massy's 4&20 Blackbird Music Festival, The Bottom of the Hill in San Francisco and The Roxy in Los Angeles. Vajra also just signed licensing deals with Viacom, The Discovery Network, Showtime and Bravo.
For show information, see Vajra's Facebook page: http://www.facebook.com/vajratemple.
Friday, September 20, Midnight at The Legendary Dobbs (Philadelphia, PA)
Saturday, September 21, 11pm at Dewey Beach Music Conference & Festival (Invasion of the Go-Girls Showcase)