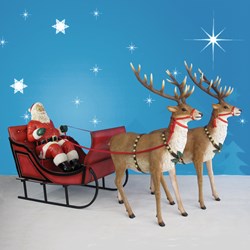 September is a very busy time of year for us.
Amsterdam, New York (PRWEB) September 18, 2013
Christmas Night Inc., global retailer of nativity scenes and Christmas displays, is encouraging retailers to get a head start on planning for the busy holiday season. While September may seem centuries away from Christmas, seasonal decorators have been researching customer requests and working on major projects for months and many are now placing orders for nutcrackers, nativity sets and other Christmas décor.
"September is a very busy time of year for us," said Don Henderson, co-owner of Christmas Night Inc. "The way this September is going, I wouldn't be surprised if we ran out of our most popular products before December 25."
Christmas Night Inc. has seen an increased demand for life size six-foot scale nativities, which have been purchased by shopping centers, municipalities and businesses as well as churches and some very large and devout private homes. The traditional version of the Santa, sleigh and reindeer continues to be in high demand for shopping centers and private homes.
As the trend toward Christmas decorating with outdoor figures continues to grow, such figures are becoming more readily available. Christmas Night Inc. figures are made of durable fiberglass with a finish that is bright and long lasting. For these reasons, it's important for retailers to start planning for the holiday season with the right Christmas display from Christmas Night Inc.
About Christmas Night Inc.
Claire and Don Henderson opened Christmas Night Inc. in 1999 to fill a consumer need for complete nativity sets, holy families and large outdoor Christmas figures, including Santa, snowmen, toy soldiers, and nutcrackers. Located in Amsterdam, NY, Christmas Night Inc. is pleased to provide these seasonal items to those who celebrate and enjoy the spirit of Christmas.