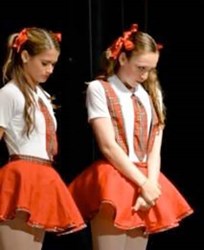 I take pride in my dancers. We have a mutual respect for each other that works both on the stage and in the classroom.
Newtown, PA (PRWEB) September 19, 2013
In yet another captivating performance on the Bucks County stage, Debra Sparks Dance Works presented an all-out display of local talent—beginning with a full performance of Pinocchio and concluding with numerous ensemble pieces from each class representing a variety of tap, jazz, hip-hop, lyrical, modern, and ballet. Ms. Deb again exceeded expectations with her sharp choreography and dazzling costumes. From tiny tots cutting their teeth on the dance floor to fast moving teens cutting up the carpet, the precision and movement told the story of a tightly run dance studio that has its acts together!
The recital demonstrated how dancers of all levels—under the right direction—can perform like pros. An impressive resume including lots of New York credentials and scores of performance time, Debra Sparks confidently leads a team of dedicated dancers who innately trust her expert guidance and are encouraged by her hugs and smiles.
About the Studio
When it comes to the best Bucks County dance studio instruction, there's no better mentor than Ms. Debra Sparks. She raises the "barre" with her high standards and nurturing approach to produce the finest of dancers.
"I take pride in my dancers. We have a mutual respect for each other that works both on the stage and in the classroom." - Debra Sparks
Learn More
Throughout the year, Debra Sparks Dance Works hosts a variety of events, including Master classes with guest choreographers from New York, Philadelphia, and Los Angeles. Check out the DSDW dance school video!
Debra Sparks Dance Works offers year-round dance classes, focusing on classical ballet as the primary foundation of training. Classes offered for students aged 3 to adult include:

Acro
Ballet—Classical
Ballet—Contemporary
Ballet—Pointe
Glee Club
Hip Hop
Jazz
Jazz—Competitive
Jazz—Funk
Jump & Turn
Lyrical
Modern
Musical Theatre
Pilates
Tap
Zumba
For more information about Debra Sparks, the DSDW studio, Master classes, Newtown, Bucks County dance classes, the area's best ballet and dance training, or for answers to general questions, please call the studio at (215) 579-5678.
Or visit the company's website.
Press release writing by WebSiteText, LLC