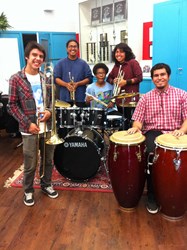 Nashville, TN (PRWEB) September 18, 2013
In conjunction with the premiere episode of the The Queen Latifah Show, which aired on September 16, 2013, Yamaha Entertainment Group donated $45,000 worth of musical instruments to the James A. Foshay Learning Center in Los Angeles.
The donation came at an opportune time, since the school had experienced budget cuts that impacted the music program. The Foshay Learning Center serves students from Kindergarten to 12th Grade and is located in the city's South Los Angeles neighborhood.
"Music education is central to Yamaha's mission," said Yamaha Entertainment Group President Chris Gero. "When we heard about this opportunity to help out a school in need, in collaboration with Queen Latifah and Alicia Keys, artists who really care about improving the world, we jumped at the chance."
During the episode, a group of young people from the inner-city school traveled to Sony studios, where special guest, Yamaha Artist Alicia Keys, surprised them with a performance. When the students returned to the school, they found the instruments awaiting their arrival. The array of instruments donated includes clarinets, flutes, trombones, sousaphones, bass clarinets, a drum set and a synthesizer.
"The Foshay Learning Center has been greatly enriched by the tremendous contributions made by The Queen Latifah Show and Yamaha," said Vince Womack, the school's band director. "The musical instruments from Yamaha are exciting additions to our program and it is wonderful to see such quality instruments in the hands of our students. It reminds them every day that what they do has value and that anything is possible."
For more information on Yamaha's record label Yamaha Entertainment Group, visit http://4wrd.it/YEGONLINE.