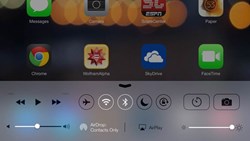 It's been given the same translucent sheen as with most of the iOS 7 updates.
London, Birmingham, Leeds, Glasgow, Sheffield, Bradford, Edinburgh, Liverpool, Manchester (PRWEB UK) 18 September 2013
Apple announced that the iOS 7 release date was September 18 and it will be available for iPad 2, iPad 3 and iPad 4 as well as a range of iPhones. The new software iOS7 has been in limited release with app developers, so there should be plenty of apps on the way to boot. These are prominent features of iOS 7, although Apple may still have one or two surprises in store when it is officially released.
New user interface
A user interface is the system by which people interact with the iPad. The icons have been given a more 'rounded' feel, as well as being given a colour overhaul. The font has also been tweaked as well.
Gyro wallpaper
The new Operating System enables to set the wallpaper to a panoramic image from the Camera Roll, through use of the iPad's gyroscope. In other words, Felippe explains, "If you spin around with your iPad, the background will scroll through the panoramic image".
Control center with useful toggles
Control Center is now a pervasive part of the new operating system, enabling to swipe up from the bottom of the screen to control everything from the Airplane Mode to the integrated Flashlight. It's been given the same translucent sheen as with most of the iOS 7 updates, but gives a lot of space up to the music player and brightness controls, as well as making AirDrop and AirPlay the stars of the show at the bottom.
Airdrop
Airdrop makes it easy and fast to share things with friends and family. Here is what Apple has to say about Airdrop: "It lets you quickly and easily share photos, videos, contacts — and anything else from any app with a Share button".
Notification center redesigned
The notifications bar is now a full-screen affair, and will also be available on the lock screen. With iOS 7, alerts will be sorted by "Today," "All" and "Missed." The Today screen brings together calendar items, weather and traffic updates.
Microphone privacy control
iOS 7 now requires applications to specifically request access to the microphone, and is similar to how other privacy options work.
New safari with 3D tab display
Safari has gained something of an update, with the same visual overhaul coming to the browser to allow dynamic resizing of the address bar, giving more space to see what's on the screen, as well as enabling to slide back and forth through your browser history.
Revamped folders
The folders are bigger; more importantly, Felippe states, "You can finally add unlimited number of apps in a folder, but they only fit 9 app icons on one page".
New multi-tasking
Multi-tasking has been changed somewhat. Felippe describes it as "allowing you to see what you're jumping to in a lovely visual manner, replacing the little bar that comes up at the bottom of the screen".
Revamped Siri
There are a range of new commands for Siri in iOS 7 too, such as "play my last voicemail", "turn on Bluetooth" and "increase my brightness".
The skilled technicians iPad Repair London have many years of experience in the Apple repair sector and they're able to provide expert advice on all the new features on iOS 7. They do exceptional work and treat iPad repairs as an art form. They provide a quality screen repair service at all inclusive price of £95 with no hidden charges. iPad Repair London stands by the quality of their repair service and provide a 12-month warranty on screen repairs at no extra cost. To find out more about the services offered by iPad Repair London, visit http://www.ipadrepairlondon.net/ or call 02035 449930.