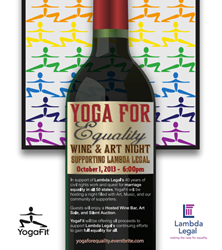 Los Angeles, CA (PRWEB) September 18, 2013
YogaFit is proud to announce it's partnership with Lambda Legal for Yoga for Equality: Wine and Art Night Benefiting Lambda Legal on October 1st, 2013 at 6pm.
Founded in 1973, Lambda Legal is the oldest and largest national legal organization whose mission is to achieve full recognition of the civil rights of lesbians, gay men, bisexuals, transgender people and those with HIV through impact litigation, education and public policy work. Because Lambda Legal is a nonprofit organization, they do not charge for their legal services and have helped propel several landmark cases into the spotlight, revolutionizing public policy around civil rights and equality, one case at a time.
Lambda Legal has pursued various civil rights and equality issues over the past 40 years, seamlessly moving marriage equality into the forefront. YogaFit is extremely proud to be hosting this event on behalf of Lambda Legal, as are several local artists, companies and community leaders who have vowed their support or are participating in the event.
Lambda Legal not only works to acheive full equality under the law, but also to defend the laws that exist that ensure equality.
Currently, Lambda Legal works in the areas of marriage & family, youth, government misconduct, healthcare, HIV, seniors, transgender people, workplace issues and to ensure fair courts.
YogaFit will give Lambda Legal 100% of proceeds and donations from the silent auction that will occur at the YogaFit Studios just south of Pico Blvd on October 1st. The silent auction includes several works by famous photographers and artists as well as gift packages and several items donated by supporters from all over Southern California. The artwork of Joan Scheibel will also be on display for sale, with a percentage donated to Lambda Legal. The event will also feature gift bags and an open wine bar for all who attend.
YogaFit is hopeful that celebrating the work of Lambda Legal will bring more awareness to marriage equality, and the further legalization of gay marriage in the remaining 37 states.YogaFit and Lambda Legal invite you to come support marriage equality on October 1st, at the YogaFit Studios at 1540 S Robertson Blvd. Los Angeles CA, 90035.
For more information about Lambda Legal, please visit LambdaLegal.org
For more information about YogaFit's Yoga for Equality Program, please visit YogaFit.com, or send an inquiry to the listed contact.