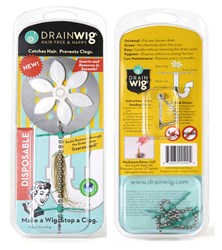 Salem, UTAH (PRWEB) September 18, 2013
Utah inventor Jennifer Briggs was featured on The TODAY Show today, September 18, to showcase her product, the DrainWig. Briggs has been selected from thousands of products to be part of the show's Bright Idea contest to find the next up-and-coming great invention. Viewers can vote for the DrainWig at Today.com/brightidea.
A resident of Salem, Utah, Jennifer Briggs is the co-creator of the DrainWig, a sleek and eco-friendly household product that prevents hair from clogging bathroom drains. It is a white, plastic flower cap attached to a hanging stainless steel chain that traps loose hair. It is inserted into the bathtub or shower drain and removed and replaced every one to three months.
"As the mother of five daughters with long hair, I was constantly searching for a solution to keep shower drains clear without the expense of calling a plumber or resorting to harmful chemicals," said Briggs, co-creator and CEO of DrainWig. "The TODAY Show and QVC Sprouts are fantastic platforms to help me bring this product to thousands of American households."
The DrainWig was selected from thousands of products across the nation to be part of QVC Sprouts. QVC Sprouts is a crowdsourcing competition that searches for the best up-and-coming products from inventors and entrepreneurs. The program is designed to give inventors and entrepreneurs a scalable and responsible entry into multiplatform retail and provides a unique opportunity for entrepreneurs to tell the extraordinary story behind their products. An $8.5 billion global retailer, QVC reaches more than 250 million homes worldwide and has launched some of today's most successful brands.
"QVC Sprouts is a way for QVC to foster entrepreneurs and inventors, while also bringing our customers new and innovative products," said Martin Bispels, Vice President of Business Development at QVC. "The DrainWig is a great addition to the QVC Sprouts line up of products and we are excited to include it in our opportunity with the TODAY Show."
To learn more about the DrainWig or Jennifer Briggs, contact Marnie Cochran at 817-939-4368 or marnie(at)drainwig(dot)com. Follow DrainWig on Facebook, Pinterest, Twitter and Google+.
About The DrainWig
The DrainWig is adding style and sanitation to the bathroom by preventing clogged drains before they happen. Its sleek, eco-friendly design creates a safe and clean method for removing hair from household drains without the need for plumbers or harmful chemicals. The company received the 2013 Homewares Innovation Gold Award at the National Hardware Show in Las Vegas, Nevada. It is currently sold on TheGrommet.com, Amazon.com and Drainwig.com and will be available on QVC.com in September 2013.