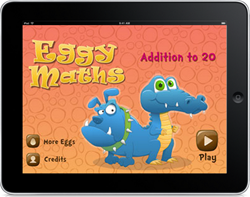 Addition skills needed for success with mathematics.
St. Louis, MO (PRWEB) September 18, 2013
Reading Eggs has launched its new Eggy Add to 20 app for iPad and iPhone. Suitable for children aged 4–7, this exciting new app includes six games that make learning and practicing addition enjoyable for young children.
With a focus on building skills that help children add to 20, each game in Eggy Add to 20 has its own unique interactivity and environment that makes learning fun and motivational. Children pop balloons, match balls, snowboard, count sheep, catch fish and play the memory game while learning many strategies that will assist them with addition. Each game has two difficulty levels to complete.
The app features colorful visuals, catchy music, fun sound effects, and a range of exciting rewards that keep children motivated to learn essential mathematics skills.
Eggy Add to 20 is available to download from iTunes for $2.99.
About Reading Eggs
Developed by educators with over 25 years of experience, Reading Eggs online lessons instruct children in the five areas crucial to literacy development – phonemic awareness, phonics, vocabulary, fluency and comprehension. Reading Eggs focuses on a core reading curriculum of skills and strategies essential for sustained reading success and is suitable for children aged 3 through 13. Since launching in the United States and Canada in 2011, Reading Eggs has signed on more than 500,000 subscribers and presented more than 15 million lessons in North America.