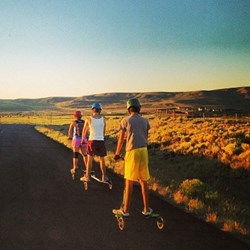 Obesity now affects 17% of all children and adolescents. We are calling on consumers to help the kids in their own community by providing kids with a new and fun way to get active.
Torrance, CA (PRWEB) September 19, 2013
An international team of adventurists are on the last leg of their epic cross country journey, Y Fliker Across America raising awareness about childhood obesity and demonstrating that exercise can be fun. But before they cross that finish line in New York, they are calling on consumers to help the kids in their own community. The Y Fliker Across America team hopes to raise enough money to provide 1,000 Y Fliker scooters to elementary school PE programs across the country. To donate or to register a school for a chance to win the scooters, go to http://www.YFlikerAcrossAmerica.com A $50 donation puts one Y Fliker in a school. Yvolution, maker of the Y Fliker, has committed to donating the first 300 scooters.
Nationwide, obesity now affects 17% of all children and adolescents - triple the rate from just one generation ago. These stats are among the reasons for President Obama proclaiming September as National Childhood Obesity Awareness Month and encouraging Americans to learn about and engage in activities that promote healthy eating and greater physical activity.
"This has been an exhausting yet exhilarating journey. All across the country, we met people who are passionate about finding new and fun ways to get kids active and reverse the obesity trend in their community," said Waneska Valois, Y Fliker Across America team leader.
Using only a Y Fliker, a self-propelled three-wheeled scooter, the team is Flikering 3,282 miles across 17 states. They had to Fliker almost two marathons a day to finish their journey in three months. Over the past three months, the team Flikered through small towns and large cities. They endured extreme heat warnings in Death Valley and tornadoes in Colorado. They rode under the moonlight in Iowa and braved rush hour traffic in Chicago. They will soon Fliker past national monuments in Washington D.C. before reaching their final destination, New York City, at the end of the month.
"We met so many wonderful people along the way, offering us water, shelter and even a spot in a local parade," added Waneska.
Previously, Waneska worked for an alternative physical education program in California schools, including "The Y Fliker Scooter PE Program." She saw first-hand how popular the program was with children and physical education teachers, but also witnessed the disappointment by only having the scooters for one day due to budget restraints.
To donate or register a school, go to http://www.YFlikerAcrossAmerica.com. Fans can follow the team through Facebook (http://www.facebook.com/YFlikerAcrossAmerica), Twitter (@WhyweFliker), Instagram (http://instagram.com/whywefliker/), and YouTube (http://www.youtube.com/user/WhyweFliker?feature=watch).
Get Moving with Y Fliker
To get moving on the Y Fliker, riders simply move their hips and legs from side to side using body power for self-propelling fun. Y Fliker's reinforced steel tubing, three-wheeled design and enhanced foot grips make it sturdy, stable, and easy to balance. Its light-weight and sleek design, combined with performance-rated wheels, also allows this free-style scooter to perform smooth carving and drifting actions. The quick response hand brake offers kids increased control and ensures a safe ride. Y Fliker also sports anti-vibration hand grips for extra comfort, and can be stored away easily thanks to its twist & stow folding system. Y Fliker is available at Toys"R"Us Stores nationwide and online at http://www.Toysrus.com/Yvolution, Target.com, FAO Schwarz and FAO.com, Sport Chalet and SportChalet.com.
Models:

Y Fliker F1: Ages 5+ (max weight 105 lbs); MSRP: $99.99; Available in pink/white, green/black, and white/red
Y Fliker F3: Ages 7+ (max weight 220 lbs); MSRP: $129.99; Available in red/black and yellow/black