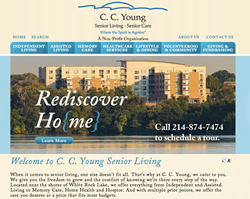 "People don't come to C. C. Young to retire. They come here to live."
Dallas, TX (PRWEB) September 19, 2013
Ten top Dallas/Fort Worth organizations today announced the launch of a new campaign, led by C. C. Young, that connects senior adults to activities and offerings specifically available for them. The concept for "Senior Thursdays" originated when Dallas retirement community C. C. Young partnered with the Dallas Arboretum to encourage senior adults to visit on Thursdays and receive a reduced admission price. From this sponsorship came the vision for a broader, metroplex-wide campaign to promote senior activity.
Russell Crews, president and CEO of C. C. Young, commented, "People don't come to C. C. Young to retire. They come here to live. Our 400+ residents are continuously seeking activities, resources, and offerings appropriate for them. The Senior Thursdays partnership throughout Dallas/Ft. Worth will provide information about what's going on in the metroplex to help keep them physically, mentally, and socially active and engaged."
Current partners include:
Bass Performance Hall
C. C. Young
Dallas Arboretum
Dallas Museum of Art
Dallas Summer Musicals
Dallas Zoo
Fort Worth Zoo
LOOK Cinemas
The Sixth Floor Museum
Nasher Sculpture Center
Senior Thursdays is not limited to events or activities available only on Thursdays. Partners in the campaign will promote activities available each day of the week through multiple websites as well as social media channels, Facebook and Twitter. Continued focus will be on the addition of strategic partners that expand food/dining, fitness, arts and education offerings. Additionally, C. C. Young announced the release of their enhanced, updated website, http://www.ccyoung.org. The new website reflects the community's beliefs of providing a vibrant, meaningful and energizing celebration of life and boasts a modern, colorful design. Other new features include quick and easy access to information, resources and activities. The overall site is organized by the type of service current and future residents are interested in.
About Senior Thursdays
Senior Thursdays is a collaborative partnership of leading arts, education, fitness, and dining organizations within the DFW Metroplex. The goal of the partnership is simple: connect seniors to engaging activities while promoting what DFW has to offer. For more information visit, http://www.seniorthursdays.org
About C. C. Young
At C. C. Young the Spirit is Ageless. We believe that creativity is a way of celebrating life every day. The C. C. Young campus, located on 20 acres of land near Dallas' White Rock Lake, currently consists of 8 buildings and offers services that include independent living, assisted living, skilled nursing, rehabilitation, hospice, and home health. Additionally, The Point, Center for Arts and Education provides creative and fitness outlets for both campus residents and the Dallas-Fort Worth community. For additional information please visit http://www.ccyoung.org