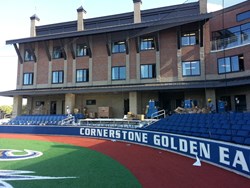 Grand Rapids, Michigan (PRWEB) September 18, 2013
Cornerstone University will spend a day celebrating its newest facility on Sept. 21 with an all-day, outdoor festival called "Heading Home" that includes a dedication service.
The community, students, staff and faculty are invited to celebrate the unique stadium and residence hall combination with food, games and softball, soccer and baseball games throughout the day.
The free event will also feature a meet and greet with former MLB players Brian Doyle, Sid Bream, Jeff Zahn and Lee Guetterman to meet and greet guests.
A raffle will give participants an opportunity to win a $500 MLB giftcard compliments of Lighthouse Insurance.
Vendors include Robinette's, The Pump House, Gus's Original and Clique Coffee.
Events begin with an 11 a.m. varsity softball game against Grand Rapids Community College followed by public batting practice, a men's soccer game, tours of Central Hall, inflatable games and a dedication ceremony at 4:30 p.m. in the concourse.
"The completion of this project reflects Cornerstone's mission to create a thriving community of Christ-followers who influence our community," said Dave Mitroff, head coach of the baseball team. "We hope to host community events and regional activities, tournaments and clinics to have a Christian influence on those around us."
To complete the day, the CU baseball team will take on Spring Arbor University at 5 p.m.
Throughout the day kids can play on inflatable toys, try their hand at the dunk tank or watch the Michigan State football game on a big screen TV.
For a complete list of activities, visit http://www.cornerstone.edu/heading-home.