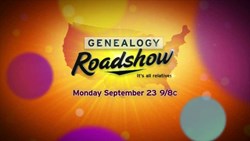 "Remember me in the family tree. My name, my days, my strife; Then I'll ride upon the wings of time and live an endless life." ~ ~ Linda Goetsch
(PRWEB) September 23, 2013
AncestorEbooks.com is pleased to announce the new PBS series called Genealogy Roadshow that is scheduled to air from September 23 through October14.
PBS will begin airing a new series called Genealogy Roadshow. The show is described as part emotional journey, combined with history and science to uncover the fascinating stories of diverse Americans. [to.pbs.org/165z2qk]
Genealogy Roadshow was created to reveal a past, present, and future. Beth Hoppe, Chief Programming Executive and General Manager of General Audience Programming for PBS says, "With a diverse mix of stories in each episode, Genealogy Roadshow appeals to Americans interested in learning about their family histories. It also shows that no matter one's heritage and background, everyone has a place in history."
This first season of Genealogy Roadshow will premiere with stories from four American cities, Nashville, Austin, Detroit, and San Francisco. Each person featured, has a family legend passed throughout the generations, that connects them to a famous historical event or figure. An expert genealogist will use family heirlooms, letters, pictures, historical documents, and DNA to search for more information.
Just like with Genealogy Roadshow, Travis Jordan told of how he focused his family history on one relative, his great grandfather, James Jordan. He began entering and tagging photos of his grandfather on FamilySearch.org. In one photo, he began searching for the others pictured with his great grandfather. Mr. Jordan learned that five of his ancestors in the picture were not included on his family tree, and after more searching, he found eight more ancestors who needed to be added as well.
Mr. Jordan said, "After devoting just a few hours to learn about my ancestors, I have come to a greater personal understanding of the power of stories and more importantly, the principle of turning our hearts to our ancestors."
Austin O'Connor wrote for AARP, "Once upon a time, family history was preserved in static photo albums, scrapbooks and journals. But today's technology makes it easy to bring your family's story to vibrant life in a living, evolving multimedia document." [bit.ly/1enb8j8]
"AncestorEbooks is the perfect opportunity to create a multimedia document that is easily shared with others," says Gayla Mendenhall. "Shows like Who Do You Think You Are? and Genealogy Roadshow inspire people to learn their family history, but AncestorEbooks gives them an outlet for those discoveries."