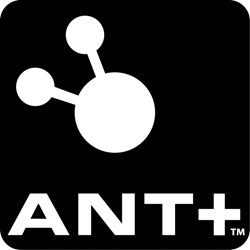 The ANT+ Trainer Device Profile is a game changer for cycling indoors.
Cochrane, Alberta, Canada (PRWEB) September 18, 2013
ANT Wireless, proven innovator in ultra low power (ULP) wireless technology, today announces the alpha release of the ANT+ Trainer Device Profile* providing robust, seamless communication between ANT+ bicycle trainers and ANT+ display devices. Consistent with the high ANT+ interoperability standards and created by industry leaders participating in the ANT+ TWG, the Trainer Device Profile features resistance control and target power control along with the optional simulation function which includes terrain, slope and wind parameters.
The full Trainer Profile is being showcased this week at Interbike in Las Vegas. ANT+ TWG Member, BKOOL, a Spanish fitness company that combines social media and ANT+ technology for running and cycling, is the first company to implement the ANT+ Trainer Device Profile into their trainer. They will be demonstrating the features at the ANT+ booth # 27147 and will highlight the ability to simulate a ride and race others in real-time via their ANT+ enabled social network platform. Visit http://www.bkool.com for more information.
"The ANT+ Trainer Device Profile is a game changer for cycling indoors," said Rod Morris, Vice President, ANT Wireless. "Riders are really going to love the ease and flexibility of being able to use all of their existing ANT+ sensors and devices as part of their indoor training experience."
ANT+ Trainers will allow riders to train indoors using all of their existing ANT+ gear and gain an exceptional riding experience, set to their specific needs. With the flexibility and unrestricted nature of ANT+, riders can view their cycling parameters (bike power, cadence and speed) on multiple displays at the same time. As an example, they can access information on their ANT+ bike computer, sport watch, tablet, smartphone or heads up display and also watch the data on a screen across the room.
The initial release of the ANT+ Bike Trainer profile will focus on the individual use case and will be expanded soon thereafter to involve group controls. In a group scenario, real-time data from individual riders can go up to the big screen with information being received by both the instructor and the individual displays at the same time. Similarly, all individual trainers can receive commands from instructors simultaneously, staying in time with videos or class sets. Allowing further flexibility, the individual rider can adjust with his/her own display at anytime and can override group instructor commands for an easier or harder workout on demand.
Other key ANT+ profiles being featured include multiple remote controls for handlebars, bike computers, heads-up displays or smartphones. The ANT+ Controls Profile capability also allows for control of phone call ID, texts, emails, music, etc. Enhanced ANT+ Bike Power features include advanced data metrics such as torque effectiveness and pedal smoothness. A measurement output data page also keeps displays up to date with sensor calibrations.
*A Device Profile refers is a standardized communication platform used in ANT+ development, ensures interoperability and a base level of functionality between devices. Learn more.
About ANT / ANT+ (http://www.thisisant.com)
ANT is a proven protocol and silicon solution for ultra low power (ULP) practical wireless networking applications. ANT+ is the pervasive ULP wireless technology facilitating the capture of critical market share in the exploding mobile sensor sector. With over 60 million devices in the market, ANT+ facilitates interoperability between ANT+ devices and the collection, automatic transfer and tracking of sensor data. This standardized communication platform enables quick-to-market solutions for application developers, sensor manufacturers and cell phone makers. ANT+ has amassed an ecosystem of world-class technology vendors in the ANT+ Alliance, an open special interest group of companies who have adopted the ANT+ promise of interoperability. These industry leaders offer readily-available brand name products for sport, wellness management and home health monitoring.
The company behind ANT Wireless is Dynastream Innovations Inc. (http://www.dynastream.com). Dynastream was established in 1998 and became a wholly owned subsidiary of Garmin Ltd. in December 2006. Dynastream is based in Cochrane, Alberta, Canada, and is a world innovator in the research and development of inertial and wireless technology.
Source ANT+ Certified Products (http://www.thisisant.com/directory)
The ANT+ Product Directory is a complete inventory of all ANT+ certified or verified products. It is a tool designed specifically to help consumers source hundreds of industry-leading devices and all compatible products within the vast ANT+ ecosystem. Devices may be searched by product name, brand, activity or product category, (http://www.thisisant.com/directory/d/getting-started), allowing the consumer to create a monitoring system that meets their specific needs.