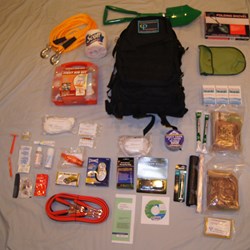 September is a great time to take stock of your Emergency Preparedness needs.
Newmarket, NH (PRWEB) September 26, 2013
September is National Preparedness Month. In order to commemorate it, PHI Emergency Management has announced a 5 percent discount on all PHI Preparedness products sold on Amazon.com.
Ralph Huber, President of PHI, made the announcement after the September leadership meeting. September, he said, is a great time to take stock of what your needs are before going into the Winter Season. Huber also added that the Hurricane season is also in full swing with several potential storms still being developed in the Atlantic ocean.
Jim Moody, the director of Emergency preparedness and training, also reminded everyone about Superstorm Sandy which devastated parts of the Atlantic Coast line and the early season Snow Storms that affected much of the Northeast and parts of the Midwest. Moody went on to discuss PHIs innovative emergency management products and training programs.
Our training covers every aspect of preparedness from Active Shooter to Zombie Apocalypse and everything in between. Our programs are specially tailored to schools of all sizes and are priced to fit your needs and level of expertise.
The PHI team is composed primarily of military veterans with over 90 years of combined service. Each member of the team has proven themselves through combat command and has extensive experience in disaster response and planning. Team members have commanded response forces and/or participated in several disaster responses to include the 2005 crash of a civilian airliner in Afghanistan, Hurricane Katrina 2005, Southwest New Hampshire Flooding in 2005, New Hampshire Statewide flooding in 2006, Epsom, NH tornado response in 2007, the 2008 New England Ice Storm, 2009 Anthrax Response in Durham, NH, the 2010 NH Wind Storm, Hurricane Irene in 2011, the October 2011 New England Snow Storm and Super Storm Sandy in October 2012. In addition, they have sustainable energy partners in New Hampshire, Massachusetts, New Jersey and New York.