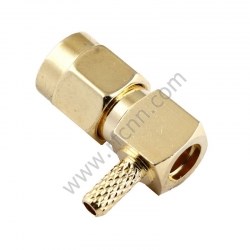 (PRWEB) September 19, 2013
Recently, RFcnn.com, a leading provider of of all kinds of RF connectors, has launched a special offer on all its SMA connectors, i.e. All of them are offered at wholesale discounted prices. According to a sales manager of the company, the promotion is valid until Oct. 15, 2013.
According to the CEO of the company, SMA (SubMiniature version A) connectors refer to semi-precision coaxial RF connectors developed as a minimal connector interface for coaxial cable with a screw type coupling mechanism. The connector has a 50 Ω impedance. It is designed for use from DC to 18 GHz.
RFcnn.com is one of the most popular RF connector suppliers. With much experience in the eindsutry, it has the ability to accept OEM orders according to customers' requirement. The company strives to save the clients valuable time by providing them top quality RF connectors at possible lowest prices.
"We are happy to launch the promotion. You can take advantage of the special offer and enjoy the discounts we offer. The current demand for SMA connectors is great is the current season, because they are applied in many industries. Please view our great selection of RF connectors at our website," says, the CEO of the company.
Furthermore, other connectors from RFcnn.com (N RF connectors, Mini Balun IDC connectors, SMC RF connectors and more) are also offered with similar discounts. The demand for SMA connectors is expected to be the major driving force of the market.
About RFcnn.com
RFcnn.com belongs to Zhenjiang Fourstar Electronics Co. LTD, which is a China based company that aims to provide customers high quality RF connectors at the lowest possible prices. A large proportion of RFcnn.com's customers will come back soon after their first deals.
More details about the company's high quality RF connectors can be found at http://www.rfcnn.com/SMA-Male-Crimp-Right-Angle-for-RG316-RF-Connector-130.html.