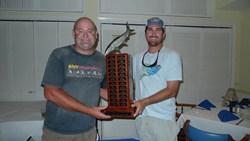 Islamorada, FL (PRWEB) September 20, 2013
Considered by some to be the "green jacket" of the sport of bonefishing on fly, the perpetual trophy of the annual 'Fall Fly' in Islamorada is adorned with names like Billy Pate, Flip Pallot, Andy Mill, Steve Huff, Tim Klein and Carl Hiaasen. For decades now, this tournament has attracted a veritable who's who of the most elite anglers and guides in the sport of saltwater fly fishing.
Poor weather conditions were the theme of the tournament, held this year from September 11-13, with clouds, rain and bad light plaguing the 15 competing teams. In what proved to be three days of hardscrabble fishing, the team of Nute/Bosso (both Islamorada residents) came though on the third day of the competition with a 7lb 8oz. with fish and three releases to take the Grand Champion slot. Nute and Bosso won the tournament in 2010, their first year competing. The Runner Up Grand Champion was Rick Orcutt of Miami fishing with Captian Eric Herstedt, catching the largest fish of the tournament, weighing 7 lbs 11 oz. Rand Holstead of Huston, TX fishing with Captain Brian Helms (a team that's been no stranger to the fly fishing tournament award ceremonies this year) won Most Releases. Steve Clark of St. Petersburg, FL fishing with Captain Duane Baker took home Best New Angler.
On a sad note, the long-standing tradition of bringing in 'weight fish' for live weighing at the Islamorada Fishing Club draws to a close this year. Back in 1983, legendary Captain Steve Huff constructed a weighing device shaped like a fiberglass canoe which has since been used to measure so many of the infamous 10-15lb "downtown" monsters for which Islamorada has renowned worldwide. New regulations from the FWC as well as Biscayne and Everglades National Parks will no longer allow for the holding and transportation of live bonefish, and the tournament will be switching to an length-based measuring/scoring system for immediate boat-side release of the fish.
The tournament benefited this year from some very generous sponsors including TrueFlies Clothing, Yeti Coolers, Thomas & Thomas, Florida Keys Outfitters and Carl Hiaasen.
Next year's tournament will be held on September 10-12. Anyone interested in competing should contact the tournament chairman Paul Nute fallflybonefish(at)gmail(dot)com.