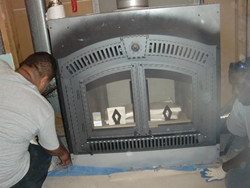 Their crew arrived on time, finished on time, and explained exactly what had to be done to fix my chimney problem. I've used Winston's for the past 10 years, and they are an asset to our community.
Washington, DC (PRWEB) September 23, 2013
Winston's Chimney Service was awarded the "Best of the Best" designation for excellence by Follow Media Consulting, Inc. in the category of Chimney Cleaning Fairfax VA and Chimney Sweep Fairfax VA. This award signifies the continued commitment and dedication of the area best in chimney and fireplace maintenance service.
Winston's Chimney Service is a full service chimney care company, founded in 1978. They have been providing quality chimney care to residents in the Washington DC, Maryland and Virginia areas with their service excellence guarantee.
The reason Winston's Chimney Service is the consumer's choice for chimney inspecting, sweeping and repairing chimneys and fireplaces is their commitment to excellence. They prove it every day by the way they treat their clients at their residences and their businesses. Since 1978, their customers in parts of Maryland, Northern Virginia and Washington, DC have been able to rest assured that they provide the best service at a fair price for maintenance, installation and restoration. When it comes to any chimney appliance, including masonry and factory-built fireplaces, oil and gas furnaces and wood and gas fireplaces and stoves, look no further: Winston's Chimney Service is the company of choice.
Winston's Chimney Service is dedicated to offering their clients the highest-quality chimney and dryer vent services within the DC area. Their technicians hold the highest certifications and have earned the industry's most respected credentials, passing extensive examinations based on fire codes, clearances and standards for the construction and maintenance of all types of chimney and venting systems.
Winston's has been ranked #1 on Angie's List since 2009 and has an A+ Ranking with the Better Business Bureau. Owner Chuck Hall works hard to separate Winston's Chimney Service from other local chimney companies by employing the most highly-trained, certified and experienced technicians in the Washington DC Metro Area.
Contact Winston's for information or an appointment at phone number (703) 379-5006 and Winston's Chimney Service will provide quality, professional service for all your chimney and fireplace needs. You may also visit them at their website at http://www.winstonsservices.com.
About Follow Media Consulting, Inc.
Named one of the best SEO companies by Jonas Marketing, Follow Media Consulting, Inc. is a rapidly growing worldwide firm of SEO, Social Media, and Mobile Marketing Professionals. Follow Media Consulting, Inc. headquarters is located in Richmond, VA. However, our professional team is networked across the world, with regional offices across the United States, in the United Kingdom, Canada, Australia, France, South Africa, the Philippines, and India.