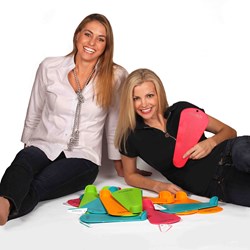 Making moms' lives easier one shoe at a time.
Atlanta, GA (PRWEB) September 21, 2013
Squatchi®, Inc. has completed the arduous task of achieving national certification as a Women-Owned Business. The certification is among the most widely recognized and respected designations in the country.
The Women's Business Enterprise National Council (WBENC) has stringent requirements for the certification process. Businesses must be at least 51% owned and controlled by one or more women. But ownership is only part of the equation. Women must be in the top leadership roles and be a driving force in the day-to-day management and ongoing operation of the business. The application process requires documentation of the origin of the business, extensive details of its financial structure and standing, a complete list of personnel employed by the business, information about the management framework and full documentation of governance, depending on the business structure.
Squatchi®, Inc. co-founders Amy Town Carabajal and Debra Rosenbloum met all the criteria. Since most large companies and other entities have requirements on the percentage of work they give to minority- and women-owned businesses, achieving the certification is a smart business move. The certification is an important marketing tool for expanding a company's reach among decision-makers in corporate supply chain and/or vendor diversity.
"The certification opens significant opportunities otherwise inaccessible at large businesses," Rosenbloum says. "It can mean the difference between getting the business or not." Carabajal agrees: "Achieving certification as a women-owned business is a wonderful empowerment tool for women in all stages of business. Women continue to become increasingly more present in the business world and this certification serves as a valuable stepping stone to success."
The certification also opens the door to important networking and educational resources for business owners, which can keep their businesses growing. The ability to partner with other women-owned businesses can provide still more opportunities for new business.
The spirit of cooperation gives business owners renewed confidence. "The women-owned business label encourages more women to go out and pursue their passions and build their careers," Rosenbloum says.
Squatchi®, Inc., founded in 2011 by Amy Carabajal and Debra Rosenbloum, produces a one-of-a-kind, children's home shoe sizer, the Squatchi®. The product saves parents of growing children time, trouble and money in the forever challenging shoe-buying process. The product was developed to make parents' lives easier and their interactions with their children less stressful and more loving.