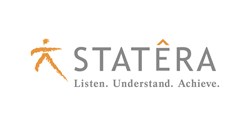 Applying PMI's framework in conjunction with Statera's proprietary Balance Methodology will help us deliver client results faster, and more effectively than ever before.
Englewood, CO (PRWEB) September 20, 2013
Statêra, "We Make Cloud and IT Services Easy™," as part of its continuing education program, Statera University, had its first class of Statêra consultants to complete Project Management Institute's Certified Associate in Project Management credentials. Since launching the program in April 2013, six Statêra consultants have completed these certifications. Statêra will continue the program in October to help all company consultants achieve these valuable qualifications.
CAPM certifications are valuable for project practitioners to demonstrate knowledge of fundamental project management insights, terminology and effective practices. These vital understandings improve management for large projects, demonstrate ability to take on additional responsibilities and allow the consultant to stand out among other employees in the similar positions. Eligible candidates are required to have both a secondary degree and at least 1,500 hours of project experience or 23 hours of project management education prior to taking the exam.
PMI is the largest non-profit membership association for project management in the world. With over 700,000 members, volunteers and credential holders, the organization continues its powerful acknowledgement. The organization is backed by globally recognized standards, extensive market research and academic programming, and industry experience via communities and local organizations.
"PMI's global standards for project management can be applied in roles and projects of all sizes and industries," said Paul Danek, Senior Delivery Consultant for Statêra and a PMI certified Project Management Professional (PMP). "The CAPM certification helps equip our people to be high-performing project contributors, work stream leaders and project managers," Paul added.
"Applying PMI's framework in conjunction with Statera's proprietary Balance Methodology will help us deliver client results faster, and more effectively than ever before," remarked Michael Jolton, Vice President of Service Delivery for Statêra. "This class is one of many within our Statera University program designed to help our consultants continually improve their skills and add greater value to our clients."
About Statêra
Statêra is a leading IT services provider that helps companies to optimize performance by mapping strategic goals and objectives to IT initiatives. With over a decade of experience, Statêra leverages best practices and uses today's top technology solutions to provide powerful insight into your enterprise, solve your mission-critical problems, drive return on investment and transform your business. We are experts in moving our clients to the Cloud, CRM, web and mobile platforms, and collaboration software, as well as custom software applications development. Our IT services, IT project management, strategy consulting and managed cloud services brokerage balance people, process and technology to get your technology needs met on time and on budget. Headquartered outside of Denver, Colorado, Statêra has local offices in Dallas, Texas; Phoenix, Arizona; Salt Lake City, Utah; and Seattle, Washington, near and off shore delivery centers, and clients worldwide. Call us at 1.866.697.0266 or visit http://www.Statera.com.