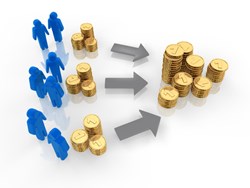 Houston, Texas (PRWEB) September 20, 2013
A historic event is coming to Houston that will discuss & disect the capital needs of our growing global economy. Current thinking on the inventions of global and electronic currencies, the creation of new financial institutions, the development of new products and services related to mortages, pensions, and mutual funds will be presented, as will thoughts on impact investing - investments made to generate measurable social and environmental impact.
Session titles include:

Social Finance - cutting edge topics in mobilizing private capital, talent and innovation dedicated to tackling social, health, environmental and human service problems for the public good.
Crowd Sourced Funding Update – incentive and equity-based crowd funding, the 2012 JOBS Act and the role of SEC-registered funding portals.
Crowdfunding Success Patterns –the "Ultimate To-Do List Before You Launch"
The Role of Incubators, Accelerators, CoWorking Spaces and Startup Boot Camps - model projects for entrepreneurship and business start-ups and the resources offered by them.
The event will be Tuesday, September 24, 2013 at the United Way Center for Philanthropy, Volunteerism and Leadership in Houston. It is sponsored by the MBA Council of Houston, the Columbia University Club of South Texas and the Center for CREATIVE Enterprise in Houston.
The cost is $50 which includes dinner and refreshments. For further information, including itenerary, and to register, visit http://www.MBACH.org