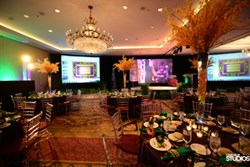 ILoveLeasing.com Apartment CRM shows more prospects read email on mobile devices than on personal computers in the last 12 months.
Dallas, TX (PRWEB) September 23, 2013
ZRS Management, LLC is one of the leading luxury class property management firms on the east coast with a portfolio of fifty-seven communities from southern Florida to Chicago. Jeremy Brown, Vice President of Marketing for ZRS, has a reputation for being a tech savvy, innovative leader with a great commitment to training and setting high performance goals. The annual ZRS Employee Conference keeps getting better every year, this year staged at the Ritz-Carlton New Orleans.
The 2013 theme focuses on mobile marketing trends, opportunities and creative concepts. Statistical data, provided by Spherexx.com's ILoveLeasing.com CRM and utilized by ZRS, shows more prospects are reading email on their mobile devices than on personal computers - 7% more, which is up 418 % in the last two years. These facts certainly support speculations that mobile Internet usage will surpass personal computers by the end of 2013.
ILoveLeasing.com CRM is mobile-friendly and Spherexx.com is currently introducing a mobile companion upgrade for clients to access the sophisticated program with a mobile telephone. The iPad version is already in place with Spherexx.com's SweetSpotDashboard.com application. Spherexx.com also provides market survey software for ZRS with MarketSurveyTools.com.
ZRS boasts a long history of above-and-beyond service and accolades including the 2007 "Highest in Residential Satisfaction" from J.D. Power and Associates, "Property Management Firm of the Year" in 2003 from the National Association of Home Builders, and is listed as one of the "Top 100 Employers" for the last ten years from the Orlando Sentinel. The company was awarded an international "Summit Creative Award" in 2012 for its exquisite corporate website and an "Internet Competition Award" in 2013 for website development from the Web Marketing Association—both classic and mobile versions were all developed by Spherexx.com®.
The conference was informative with Becca Wilson sharing advanced mobile marketing concepts along with other industry service providers, and it was great fun as well. An elegant breakfast and lunch was arranged for attendees as well as ingenious snacks molded in the shape of Twitter icons, including a stunning ice sculpture, Twitter decorated "cookies" and sporting live blue birds. The ZRS Awards Banquet finished off the conference that evening. For more information, visit http://www.Facebook.com/ZRSMgmt for event updates.
As a third-party management company, ZRS Management, LLC has grown through the recommendations from some of the nation's most respected institutional clients and private owners. Since 1991, ZRS has managed over 120 properties and has never lost a contract for performance reasons.
ZRS Management, LLC (formerly ZOM Residential Services, Inc.) is a Florida Limited Liability Company originally formed in 1991 to manage high quality multifamily communities. In 2010, ZRS Management, LLC became a stand-alone third party management company. Currently, ZRS manages over 22,000 units for various institutional clients, partnerships, and individual owners.
The company has extensive experience in managing quality garden-style apartments, urban mixed-use projects, "fractured" condominium projects, and luxury, high-rise buildings.
ZRS's management approach on any given project is dictated by the goals of the owner. New business has grown almost entirely through recommendations from enthusiastic clients, recommendations we have earned by exceeding expectations, and specifically, by enriching clients.
About Spherexx.com—Ad Agency | Software Development | Data Centers
Established in 2000, Spherexx.com is recognized as an established leader in the apartment industry website, Internet marketing and software development services. With offices located in Tulsa, Dallas, Austin, and Houston, the company has been distinguished as one of INC5000's fastest growing companies. Spherexx.com is a recipient of the International Summit Creative Award 2012 for creative and communication excellence and the Internet Advertising Competition award for best real estate website, and is a Webby Honoree.
Spherexx.com offers a wide selection of professional services including web design and development, touch-screen kiosks, Internet lead generation tools, online advertising, apartment leasing consulting, advanced mobile technology, apartment lease-up marketing consulting, and search engine performance. The company also provides branding services, video/multimedia production, print media, and copywriting as well as website and email hosting, database solutions, pay per click, e-commerce solutions and custom programming.
Spherexx.com has developed CRM (customer relationship management) products, marketing and lead generation tools that allow clients to better manage and convert leads to leases and sales. These applications are branded under ILoveLeasing.com, MarketSurveyTools.com, ApartmentWebsites.com, Messagekast.com, and RentPush.com Revenue Management. Spherexx.com provides web-based prospecting, marketing, advertising management, and support services.
Spherexx.com has provided services to innovative real estate companies like Abacus Capital Group LLC, Atlantic Pacific Companies, CompassRock Real Estate, The Dermot Company, Inc., Realen Properties, Riverstone Residential and Roseland Property Company―A Mack-Cali Company and ZRS Management. The company represents over one hundred years of direct, executive level property management experience.