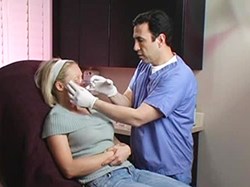 Los Angeles, CA (PRWEB) September 23, 2013
According to a September 11, 2013 CBS News report entitled "Botox Now FDA-Approved for Treating Crow's Feet," Botox had been officially approved for Crow's feet, which are wrinkles at the outside corners of the eyes. OnabotulinumtoxinA, known by the trade name 'Botox', is made from the same neurotoxin which can cause food-borne botulism. When this product is used correctly by directly injecting it into a specific muscle in controlled doses, however, the paralyzing effect of this substance freezes the muscle in place, which can make wrinkles appear far less visible on the skin's surface. (Go to: goo.gl/YVi63k)
"Doctors have been treating crow's feet with this product for years," says Dr. Simon Ourian, Medical Director of Epione Beverly Hills. "From a physician's perspective, the FDA's approval won't have much of a practical impact."
As reported by CBS News, Botox received approval in 2002 to treat glabellar lines, which are frown lines between the eyebrows, Botox is now approved for use on crow's feet as well, which are known as lateral canthal lines. These latter wrinkles are believed to be caused by common facial expressions, such as smiling, squinting and frowning. After being treated with Botox by a professional, patients often notice the anti-wrinkle effects for as long as six months.
The report goes on to note that the risks associated with the use of this product are indicated on the boxed warning label, which is the FDA's strongest warning. However, when this treatment is applied according to dosing guidelines, there are no confirmed cases of Botox spreading and causing a serious issue.
As noted by Dr. Ourian, CBS News reports that prior to the FDA approval for treatment of crow's feet, many cosmetic doctors felt comfortable using Botox off-label for that purpose, and for smoothing out wrinkles on the sides of the nose as well. After years of experience treating approved facial wrinkles with the product, a good number of doctors felt confident using Botox off-label. So while the cosmetic medicine professionals now have the FDA's go ahead to use this product for wrinkles around the eye, many of them were already using Botox to treat crow's feet on a regular basis.
"Perhaps among the general public, Botox may now be perceived as having a leg up on competitors' products," says Dr. Ourian, "as this brand is the only one to be approved for the treatment of crow's feet to date. If the patient is aware of the FDA approval, she may have more confidence in her doctor and the treatment."
Dr. Ourian has been a pioneer in laser technology and non-invasive aesthetic procedures including Restylane, Juvéderm, Radiesse and Sculptra. These treatments are used for the correction or reversal of a variety of conditions such as acne, acne scars, skin discoloration, wrinkles, stretch marks, varicose veins, cellulite, and others. More information about Botox can be found on Epione's website.