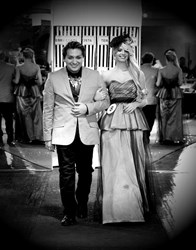 Each year the talent increases, and the competition becomes more fierce.
Dallas, TX (PRWEB) September 20, 2013
Sunday, September 22nd at 7:30 Metroplex Fashion Landmark Terry Costa will present their 4th Annual Teen Board Homecoming Fashion Show and Catwalk Competition; a wonderful opportunity for student fashion designers to show off their designs in prom dresses and formal wear focused on Prom 2015! The presentation of the contestants will be the highlight of the Fall 2013 Teen Board Homecoming Fashion Show. Contestants' designs are evaluated based on a popular vote on Facebook, in-store secret ballots, and the votes of a panel of industry judges.
The winner will also spend a day with the Terry Costa Buyers at the Dallas Apparel Market and will also receive a $1,000 scholarship courtesy of Terry Costa.
Last year's winner - Sergio Alfonso Armas - has been steadily designing for his line, Haus of Armas. Lauren Perdue, 2011 Winner, has set up shop in Austin, Texas creating designs for all of Austin. 2010's winner Grant Mower has made several appearances in local and national media, including the Nate Show, the Dallas Morning News, the Huffington Post, and D Magazine after winning the contest at just 12 years old.
"The Terry Costa Catwalk Competition gets more exciting every year," said CEO Tina Loyd. "Each year the talent increases, and the competition becomes fierce."