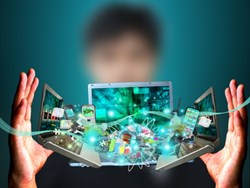 the user's access to the site carries no indication in the HTTP headers that a proxy is being used.
Dallas, Texas (PRWEB) September 23, 2013
idcloak releases a free, multifunctional unblocking service which allows users to access sites that are normally unavailable on their connection. Such blocks may occur because of local censorship on their network, their Internet Service Provider (ISP) or even the site itself. The online web proxy is equipped to cope with all these forms of restriction.
The service is modest in appearance: a simple URL box embedded on a web page with a menu for extra options. "Ease of use was a key element in our design," explains Robin Welles, senior researcher at idcloak, "We deliberately presented the proxy to appear much like a search engine so that new proxy users would feel at ease with it. The only important difference between using the proxy and a search engine is that the proxy requires a web address not a search term."
The web proxy offers different features for different types of unblocking; some built-in, others accessible through a menu. "Our proxy belongs to the high-anonymity class – which means the user's access to the site carries no indication in the HTTP headers that a proxy is being used. This allows them to access YouTube videos that are only accessible from US IP addresses, for example.
"When it comes to unblocking censorship on the network or the ISP, the user should consider activating some of the encryption features. Encrypt URL is active by default, so the destination site's web address cannot be seen or recorded by the censor. In addition, the SSL connection security and Encrypt Page will ensure that tougher censoring filters are kept in the dark about the unblocking."
One limitation remains, however, which Welles says can only be navigated by a different technology, "In some censorship situations, access to our website is blocked and the user is unable to reach the free proxy."
To help users negotiate this problem, idcloak has developed a new VPN bypass service. The service runs from the user's device through a software interface and requires no access to the idcloak site once set up. "Our VPN is practically immune to censorship," says Welles.
Visit idcloak.com to learn more.