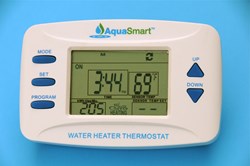 "We think we can reduce that by half that cost; putting a lot of money back into the family budget."
Vancouver, WA (PRWEB) September 24, 2013
AQUA SMART, Inc. announces the release of two new wireless thermostats for 220 V electric hot water heaters. The RES model is for residential installations and the TOU model was customized for utility companies to support Time of Use energy saving programs. Both models mount on top of a residential electric hot water heater allowing the homeowner and/or the utility company to reduce energy consumption and the cost to operate a residential electric hot water heater.
The AQUA SMART® system is a retrofit device, easily installed by the homeowner, a plumber or an electrician, allowing the homeowner to remotely adjust the water temperature of the hot water heater up to 100 feet from the location of the water heater," says Douglas Greene, CEO & Founder, Aqua Smart, Inc. "According to the U.S. Department of Energy (DOE), power consumption with an electric hot water heater can account for up to 29% of a homeowner's monthly electric bill. We think we can reduce that by half that cost; putting a lot of money back into the family budget."
The AQUA SMART® is controlled by a wireless, wall-mounted transmitter, which features an LCD screen displaying one of the 4 MODES which operate the water heater. Energy consumption, in kilowatt hours (kWh), are also displayed. The transmitter operates on one of 1,048,576 security codes programmed into each system and operates on 2 - AAA batteries.
The system has been safety tested to UL for U.S. installations and to CSA standards for Canadian installations and is listed by ETL under Control # 4006494. Appropriate RF Certifications in both the US and Canada have been issued.
The AQUA SMART® Receiver is a retrofit component that mounts on top of any standard water heater, over the water heater's junction box, and requires a simple re-wiring of the incoming power supply wires to the Receiver's electronic control panel. It can also be installed on new water heaters that do not have energy-saving features already installed. Installation typically takes less than one hour.
For more information on AQUA SMART products, visit http://www.aquaenergysaver.com or contact:
Richard B. Greene
Aqua Smart, Inc.
2425 NW 69th Street
Vancouver, WA 98665
Phone: 360-977-6162
E-mail: rich(at)aquaenergysaver(dot)com
http://www.aquaenergysaver.com