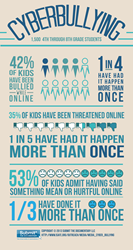 A powerful chronicle of the rise of cyberbullying.
Atherton, CA (PRWEB) September 24, 2013
"Submit the Documentary" exposes the most epic struggle in the digital, Internet age. By exploring the complicated dynamics behind cyberbullying, this film describes the impact and outcomes of advanced technology and human nature in a lawless, new, social frontier. Told through the stories of victims, bullies and experts, Submit reaches past the headlines to describe what makes cyberbullying a threat to our national and global social fabric.
"Submit the Documentary" has been accepted into the United Nations Association Film Festival (http://www.unaff.org/2013/schedule.html) and will be shown on October 21, 2013 at 4 p.m. PST in Atherton, CA: Sacred Hearts Schools, Harman Auditorium, 150 Valparaiso Ave. Tickets are $10 and can be purchased at the screening location and the screening is free to students, teachers, and seniors who present identification.
After the film screening at 5 p.m. there will be a panel of experts from Stanford University to discuss "Social Media and Cyberbullying" which will be free for the community to attend. The panel will explore the connections being made online and how that contributes to overall health of teens and children along with providing parents and teachers in the community with a direct way to understand how cyberbullying is impacting their respective communities.
Alice Cahn (Cartoon Network) also featured in "Submit the Documentary" describes the film as, "an impressive collection of interviews with key experts in the field; and offers a sobering look at a devastating health issue affecting America's, and the world's, youth."
Director Les Ottolenghi's first film is "Submit the Documentary". As a leader in the Internet Technology industry, Ottolenghi wanted to ensure that children would use these great technologies in a good way, not a negative one. Ottolenghi has more than 20 years of experience as a senior executive in Fortune 500 companies and as a founder of entrepreneurial ventures. He is widely recognized as an Internet commerce and media visionary, having testified before the US Senate, the Federal Trade Commission and advised the Whitehouse. Ottolenghi has counseled and worked with the largest media & entertainment firms in the world including EMI, Bertlesman, SONY Entertainment, Time Warner, CNN, Interscope Records, Universal Music, Disney Pictures and several leading popular entertainers. In addition, Ottolenghi headed up and launched the youth Internet protection product, Mousemail, which has been recognized in the news by CNN, Fox News, USA Today and MSNBC. In 2012, Ottolenghi successfully completed a series of social media products including the first ever social search engine that continuously tracks and monitors social media sentiment. Ottolenghi has been an advisor to both President Obama and President Bush on advanced Internet Technologies and has authored briefs submitted to the U.S. Supreme Court on the use of Internet technologies for Entertainment Media distribution. Most recently, Ottolenghi appeared in front of the state legislature of Maryland in support of House Bill 396, which would introduce legislation to reduce cyberbullying (http://www.unaff.org/2013/f_submit.html).
For more information on "Submit the Documentary" including videos, references and resources, please visit http://www.submitthedocumentary.com/press-2/.