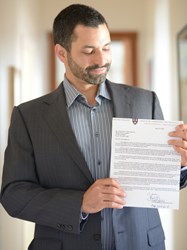 With practice, students become aware of the thoughts, emotions, etc. that are essential for impactful writing.
San Francisco Bay Area, California (PRWEB) September 25, 2013
Strolling through UC Berkeley's campus on a warm, cloudless day, Alex Thaler points to a verdant expanse of grass near Morrison Hall, where the university's music department is located. "That glade was sort of like my Walden Pond," he says, smiling. "As an undergraduate student I spent many hours sitting near that oak tree, letting the sounds from Morrison wash over me."
In his practice as an admissions consultant – someone who guides students through the college and graduate school application process – Mr. Thaler is as likely to be reflecting on present-moment awareness as he is to be discussing grade point averages. His endorsement of mindfulness makes him unique among professionals in his field. And his approach seems to get results. Clients of Mr. Thaler, who vary considerably in age, nationality, experience, and academic interest, have gone on to attend schools like Harvard, Stanford, University of Chicago, and a range of other schools spanning the academic spectrum. Following the recent release of his mindfulness-based book on the admissions essay, Mr. Thaler received a flood of emails and phone calls, as well as offers to present at high schools and colleges.
Mindfulness, which has its roots in ancient Buddhist practices, has become increasingly popular as a tool for managing stress and enhancing performance. The scientific community appears to have taken notice as well, as reflected in an exponential rise in the number of scholarly publications on the subject (including a 20% increase from 2011 to 2012). Mindfulness in education is a particular area of interest among practitioners and scholars, although Mr. Thaler appears to be the first to have adapted it to the area of admissions counseling.
In an industry sometimes criticized for preying on the fears of anxious applicants, Mr. Thaler's approach stands out. Much of his work centers around the application essay (sometimes referred to as the admissions essay or personal statement), a notoriously difficult part of the application process. Application essays are typically between 500 and 1,000 words – around two double spaced pages – and offer a chance for students to show admissions officers an aspect of their character that cannot be discerned through test scores and grades. According to Mr. Thaler, the application essay is not about proving that you are a good student, but about "eliciting a favorable emotional response" and suggesting that your character makes it likely that you will succeed, both academically and professionally.
"Most of the students and parents I meet are preoccupied with questions about what these admissions committees are looking for. When you start from that frame of mind, it's very difficult to create an essay that is authentic and genuine…an essay that stirs something in the reader. Through mindfulness, students are able to gain an awareness of when their thoughts drift toward 'what the admissions committee is looking for.' With practice, they can become aware of all of the thoughts, emotions, impressions, etc., that we tend to filter out unconsciously, but which are essential for impactful writing."
Mr. Thaler's recently released book, "The Art of the Personal Statement," is available for free at http://www.dearadmissions.com.