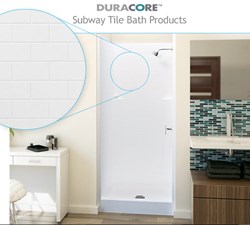 Aquatic's subway tile bathware is another way to get the same great look without the expense and work required for installing and keeping up tiles and grout.
Anaheim, California (PRWEB) September 25, 2013
Aquatic – the world leader in innovative and inspired bathware – today announced a new group of showers and tub showers for builders and homeowners who want the timeless, classic look of ceramic subway tile but with easy installation and low maintenance, all at an attractive cost.
Aquatic's one-piece, DuraCore (TM) tub-showers featuring subway tile design now are available in two sizes – 66" x 36" x 80" and 60" x 32" x 80" (in the Western United States initially). Aquatic plans to expand its subway tile offering in early 2014 with the addition of a low-threshold, 36" x 36" x 80" shower and a larger 60" x 42" x 80" tub-shower.
"We were inspired to develop these products because ceramic subway tile, which never goes out of style, has been enjoying a resurgence in recent years – this is another way to get the same great look without the expense and work required for installing and keeping up tiles and grout," said Stacy Zar, Director of Marketing and New Product Development, Aquatic.
"Our subway tile units are unique and will help home builders differentiate their offerings from those of competitors," said Zar. "They also will appeal to homeowners who want a striking bathroom that's easy to care for."
Since ceramic subway tile debuted in the early 1900s in New York City's subterranean train stations, the gleaming 3"x6" white rectangles have captured the public's imagination and, more than a century later, remain an enduring favorite for bathrooms. Aquatic's fresh take on this design standard retains the best traditional features while adding important 21st-century enhancements, including:
● Clean and simple lines that complement virtually any décor – from vintage to modern and everything in between;
● A sleek, ultra glossy finish that brightens any space and delivers a polished, high-end look at a competitive price – significantly less than the cost of using individual tiles;
● Easier installation and maintenance than for showers and tub-showers with ceramic or glass tile walls, which require grout; and
● Four-layer DuraCore construction (exclusively from Aquatic) so these units can withstand the rigors of shipping, installation and long-term usage.
Aquatic also has designed the subway tile tub-showers and showers with comfort and safety in mind. They can be ordered with reinforcement for later installation of grab bars or with factory-installed grab bars in compliance with FHA and ADA requirements. Additionally, the shower slated for introduction next year will have a four-inch threshold for easy entry and exit. All units come with slip resistant flooring and are available in Aquatic stock and premium colors, including the signature DuraCore, ultra-bright, glossy Aquatic White.
About Aquatic
Aquatic offers the largest and most innovative selection of tubs, showers and bathware accessories. The company's world-leading Hydrotherapy, Everyday and Accessible lines include more than 300 products for virtually every need – all inspired and made in America. Based in Anaheim, California, Aquatic serves distributors, builders, plumbing professionals, architects, designers and consumers through a nationwide network of state-of-the-art facilities for manufacturing, distribution and support. For more information, visit http://www.aquaticbath.com.
# # #