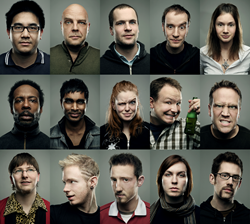 Emotions are actually loaded with information and as such can enhance rational thinking and decision making.
Montreal, Canada (PRWEB) September 25, 2013
How different would human interaction be if schools included emotional intelligence training in their curriculum? The short answer is: "Very". According to research by Queendom.com, EQ is a multifaceted competency that has a major impact on how successful a person is at creating and maintaining relationships.
Hollywood movies would have us believe that in order to be popular, you need to have charisma, devious powers of manipulation, and the emotional depth of a teaspoon. Granted, charisma can draw people to you, but according to research by Queendom.com, it's emotional intelligence that keeps them there.
Analyzing a sample of 34,870 people who took their Emotional Intelligence Test, Queendom's data reveal that those with strong emotional intelligence are more popular in their social group, more satisfied with their relationships in general (family, friends, romantic), and tend to experience less conflict and arguments.
Those who are satisfied with their relationships significantly outscored their less satisfied counterparts on key EQ traits, such as:

Comfort dealing with one's own and other people's emotions (61 vs. 43)
Social insight (85 vs. 75)
Self-control (68 vs. 44)
Self-esteem (75 vs. 47)
Values integrity (knowing what one's values are, and living by them) (74 vs. 65)
Those who experience very little conflict significantly outscored their counterparts on traits like:
Emotional problem-solving (77 vs. 65)
Positive mindset (69 vs. 55)
Impulse control (59 vs. 45)
Self-control (68 vs. 49)
Resilience/Hardiness (72 vs. 57)
Coping skills (69 vs. 44)
Conflict resolution (71 vs. 63)
Flexibility (59 vs. 43)
Rumination is the only exception – those who argue more and also more likely to ruminate (45 vs. 64)
Those who are popular in their social circle significantly outscored their less popular counterparts on traits like:
Emotional self-awareness (ability to recognize and identify one's own emotions) (59 vs. 48)
Awareness of one's strengths and limitations (73 vs. 63)
Positive mindset (69 vs. 55)
Self-control (66 vs. 54)
Self-esteem (75 vs. 56)
When incorporating relationships status in their analysis, Queendom's data also reveal that, compared to married people, single people:
Tend to be uncomfortable with emotions – both their own and other people's
Have higher tendency to ruminate
Have more difficulty with emotional problem-solving
Tend to have a more negative mindset
Are less effective at resolving conflict
Have lower self-esteem
Are less content with their life in general
May know what their values are, but don't live in accordance with them
Are actually less independent
"In all of these comparisons, the more popular, more satisfied, less argumentative or married groups all outscored their counterparts on the overall EQ score by at least 10 points," explains Dr. Jerabek, president of the company. "It may seem obvious that the ability to deal with, regulate, and discuss our feelings is necessary for healthy human interaction, but acceptance of the importance of EQ is still in its fledgling stages. It's a multifaceted concept that may be difficult to understand and measure, but its impact is undeniable. People with strong emotional intelligence are not only more content with their relationships, but they're also more successful in their professional life, and happier overall."
"Emotions got a bad rap in our rationally oriented society; people think that unless you suppress your emotions, you will behave irrationally," points out Dr. Jerabek. "However, the truth is, even people who pride themselves in being rational often make decisions based on their emotions; they just don't realize it. Emotions are actually loaded with information and as such can enhance rational thinking and decision making. It's far better to understand our emotions and regulate them than to stick our head in the sand and pretend they are not there."
"The inclusion of emotional intelligence training in managerial development is already well in progress, but perhaps it's time to make it part of school curriculum. Children need more than socialization opportunities; they need to be able to learn how to deal with conflict, to understand and manage their emotions and accept them as a part of who they are. It is also essential to teach our kids to read other people and to be able to empathize with others … such insight should be an integral part of anti-bullying programs. This is especially true for boys. In our nearly 20-year study of emotional intelligence, women continue to outscore men on EQ traits like empathy, social insight, conflict resolution, and comfort with emotion. This is a trend that we hope to see change in the next 20 years. Men certainly have the ability to master their emotions - perhaps even too well sometimes - but many still think that listening to and expressing their feelings makes them effeminate," concludes Dr. Jerabek.
Interested to find out what your emotional intelligence score is? You can take the Emotional Intelligence Test at:
http://www.queendom.com/tests/access_page/index.htm?idRegTest=3037. A version of this test for HR and counseling purposes is also available. Visit ARCHProfile.com for more information.
About Queendom.com
Queendom.com is a subsidiary of PsychTests AIM Inc. Queendom.com is a site that creates an interactive venue for self-exploration with a healthy dose of fun. The site offers a full range of professional-quality, scientifically validated psychological assessments that empower people to grow and reach their real potential through insightful feedback and detailed, custom-tailored analysis.
About PsychTests AIM Inc:
PsychTests AIM Inc. originally appeared on the internet scene in 1996. Since its inception, it has become a pre-eminent provider of psychological assessment products and services to human resource personnel, therapists, academics, researchers and a host of other professionals around the world. PsychTests AIM Inc. staff is comprised of a dedicated team of psychologists, test developers, researchers, statisticians, writers, and artificial intelligence experts (see ARCHProfile.com). The company's research division, Plumeus Inc., is supported in part by Research and Development Tax Credit awarded by Industry Canada.
Contact:
Ilona Jerabek, Ph.D.
President of PsychTests AIM Inc.
9001 Boul. De L'Acadie, Suite 802
Montreal, Quebec, H4N 3H5