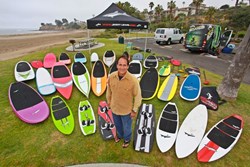 Jimmy Lewis is a unique character with an incredible eye for shaping boards.
Maui, Hawaii (PRWEB) September 26, 2013
The article chronicles a two-week road trip down the California Coastline as Jimmy and his crew visit every local surf break from San Diego's Tourmaline Beach to the Fort Point left under the Golden Gate Bridge. To celebrate his 45 year anniversary of shaping, Jimmy and his crew packed 25 boards into a van that would go on to circumnavigate the entire country in 15,000 miles.
Russell's article paints a picture of Jimmy's old-school sense of humor and business. It touches on his history of having shaped for great riders like Laird Hamilton and Cort Larned. It discusses his relationships within the surf and SUP industries. And it describes Jimmy's sense of shape and speed.
Read the Article Here:
"On the Road with Jimmy Lewis"
http://www.jimmylewis.com
Jimmy Lewis has been shaping surfboards on Maui since 1968. His surfboards have ridden the largest waves in the world (Billabong XXL Biggest Wave Award), set world speed records for windsurfing, revolutionized kiteboarding, and now lead the way in construction and shape for high end SUPs. He is distributed in the US, Central and South America, and the Caribbean by Miami based Fuacata Sports.
http://www.standupjournal.com
Standup Journal can be found in Barnes & Noble and Paddle Shops around the country. Digital and Print Subscriptions can be found at their site (link above).