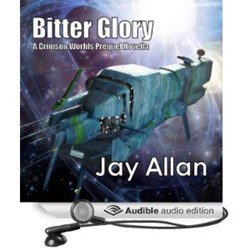 An unforgettable story.
(PRWEB) September 26, 2013
SciFi Publishing is pleased to announce the release of its newest scifi audiobook, "Bitter Glory (Crimson Worlds Prequel) ". Bitter Glory, written by bestselling scifi author Jay Allan, is now available on Amazon, Audible and Itunes. http://bit.ly/19evweY.
About Bitter Glory
Augustus Garret is the hero of the Alliance, the greatest naval commander in the history of space combat. He leads massive fleets in great battles, but once he was a new captain leading his tiny attack ship on it first mission.
In this story shortly after he takes command for the first time he comes before an enormous enemy ship with little backup. He soon learns that also nearby is his first love trapped in a dying ship. The young Garret driven by ambition and the quest for glory works to both destroy the enemy ship and get to her in time.
But war in space is brutal, and the consequences of command decisions can haunt even the strongest commanders. Will Garret win glory? Is he prepared to pay its cost?
What People are Saying
5.0 out of 5 stars "Great Stuff!"
5.0 out of 5 stars "Another Awesome read!"
5.0 out of 5 stars "Excellent job!"
5.0 out of 5 stars "Very Enjoyable"
About the Author
Jay Allan currently lives in New York City, and has been reading science fiction and fantasy for just about as long as he's been reading. He enjoys military and dystopian science fiction and epic fantasy. You can join his mailing list at http://www.crimsonworlds.com for updates on new releases.
About Sci-Fi Publishing
Sci-Fi Publishing enables authors to bring their work to life, creating powerful audiobooks for Sci-Fi fans. We partner with authors from audiobook production to marketing so they can continue to focus on their passion, creating new and amazing worlds.
For more information about us and to discover other great audiobooks, like Jay Allan's Dragon's Banner visit us at either http://www.scifi-publishing.com or http://www.scifi-audiobooks.com.