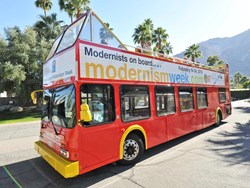 "Modernism Week is one of the country's most popular annual events for architects, designers, collectors, and modernism aficionados," says Board Chairman, Chris Mobley.
Palm Springs, California (PRWEB) September 26, 2013
Modernism Week's signature February event is an annual celebration of mid-century modern design, architecture, art, fashion and culture. This exciting 11-day festival will take place February 13-23, 2014 in the Palm Springs area of Southern California. It features more than 100 events including the Signature Home Tours, films, lectures, Premier Double Decker Architectural Bus Tours, Modernism Show, nightly parties and live music, walking and bike tours, a Prefab Showcase and Modern Living Expo, tours of Sunnylands, vintage fashion, classic cars, garden tours, a vintage travel trailer exhibition, and more.
"Modernism Week is one of the country's most popular annual events for architects, designers, collectors, and modernism aficionados," says Board Chairman, Chris Mobley. "It's a great opportunity to share the cool, iconic, modern design aesthetic of Palm Springs with visitors from around the world."
Programming highlights include the Premier Double Decker Bus Architectural Tours running four times daily; the return of speaker Charles Phoenix at the Annenberg Theater (2/15); tours of the Annenberg Estate at Sunnylands; the popular Modernism Show at the Palm Springs Convention Center (2/14-17); a Vintage Fashion Show at Hilton Palm Springs (2/16); and an expanded exhibition at the Prefab Showcase and additional designers in the Modern Living Expo (both weekends).
The popular lecture and film series, which continues to draw sell-out crowds, will debut a film on legendary architect and Palm Springs resident, Hugh Kaptur. Kaptur, who designed more than 200 residences and 40 commercial projects locally, will also be added to the famed Palm Springs Walk of Stars with a ceremony and reception during the week.
A new event for the 9th Annual Modernism Week is a Sunset Tour of Illuminated Modern, a free nightly exhibition along Palm Canyon Drive that showcases a selection of specially illuminated contemporary and mid-century buildings designed by prominent desert architects. Danish Modern and influences from modern eras in Chicago and Hawaii will also be found as organizers pay homage to modernism across the globe.
More options for evening entertainment will be added with the introduction of "Modernism Week After Dark," including special nightly events such as a festive retro Mambo party to kick-off the week; cocktail parties at stylish hotels; multiple music venues featuring live bands, DJs and dancing throughout the week; and a special "Party at the Prefabs" to allow visitors to experience the beautifully appointed prefab model homes lit up like glowing lanterns in a lively party atmosphere after dark.
Modernism Week will draw to a close on Sunday, February 23 with a very special appearance and talk given by world-renowned designer Trina Turk. Known for her unique Palm Springs-inspired designs, Trina Turk will present "Sunnylands Chic" at the Rancho Mirage Library discussing her insight on the iconic style of Leonore Annenberg and the Annenberg Estate at Sunnylands. A special meet-and-greet cocktail reception will be held at Sunnylands in Rancho Mirage immediately following the lecture.
Modernism Week has launched a new and improved website and ticketing system. Visitors to the site can learn about all scheduled events using improved sorting categories to search by date or type of event. Streamlined ticketing functionality provides the ability to select desired events, continue shopping, and check out all at once. Printable e-tickets also expedite confirmation receipt.
Tickets will be available on October 1 at 12 p.m. PST at modernismweek.com.
The City of Palm Springs is the Presenting Sponsor, and Land Rover is a Major Sponsor of Modernism Week. Official Host Hotel, the Hilton Palm Springs Resort, is offering a special room rate for a limited time only. Contact them directly at 760-320-6868 or use the link at modernismweek.com.
About Modernism Week:
Modernism Week is a California 501(c)(3) non-profit organization. Modernism Week is also a charitable organization, providing scholarships to local Palm Springs students pursuing college educations in the fields of architecture and design; as well as giving grants to local and state preservation organizations for their efforts to preserve modernist architecture throughout the state of California.
Modernism Week's Mission:
The mission of Modernism Week is to celebrate and foster appreciation of mid-century architecture and design, as well as contemporary thinking in these fields, by encouraging education, preservation and sustainable modern living as represented in Palm Springs.
Please visit modernismweek.com and "Like" them on Facebook.