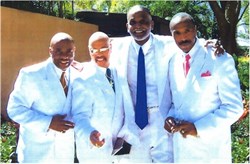 Stand By Me, On Broadway, Under The Boardwalk...can it get any better than these jewels of American Music?
Washington, DC (PRWEB) September 26, 2013
Mark Sonder, MM, CSEP and the Chief Entertainment Officer at the award winning music agency Mark Sonder Productions, Inc. is proud to announce that in this diamond anniversary year of The Drifters that Linwood Peel's Tribute to The Drifters continues to move and inspire audiences around the country. From Washington State to Washington DC from Massachusetts to Southern California, the demand for the original beach music band is still very strong.
Hired by corporations and associations for their meetings, conventions, trade shows, expositions and special events to concerts and casino work around the US everyone knows the words to "On Broadway," and "Under the Boardwalk," and the other million sellers which are performed in this show.
There Goes My Baby
This Magic Moment
Save the Last Dance For Me
Up On the Roof
On Broadway
Under the Boardwalk
Dance With Me
With all of this notoriety, the group believes in giving back to the community and does so often. Wherever they perform they almost always make sure to visit a local veterans hospital, elementary school or an at risk youth center.
So make yours a Magic Moment by calling today to book this band by contacting: Mark Sonder Productions at 540-636-1640 or msonder(at)marksonderproductions(dot)com.
About Mark Sonder Productions
Mark Sonder Productions is a privately held company that was founded in 1985. It's an award winning entertainment agency, which has more than 28 years of contracting experience, specialized in events, meetings, conventions, trade shows, expositions, concert and casino facilities worldwide, as seen in The Boston Globe, The San Francisco Chronicle, The Miami-Herald, United Press International, as well as on FOX and CBS Money Watch. Mark Sonder Productions offers exclusive and non-exclusive relationships with headliners, musicians, comedians, theatrical productions and lecturers. The chief entertainment officer, Mark Sonder, is an entertainment industry expert and he has represented clients and end users in the U.S.A. and abroad.
Websites:
http://marksonderproductions.com/lpsdrifters
http://drifterstribute.com
http://facebook.com/lpsdrifters