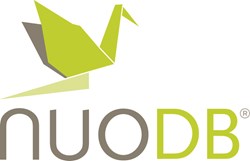 NuoDB's patented distributed architecture was specifically designed to support true global distribution of a database. - Dr. Michael Waclawiczek, NuoDB Vice President of Marketing
Cambridge, MA (PRWEB) September 26, 2013
NuoDB, Inc., the leader in NewSQL distributed database technology, announced they will be conducting a live-streamed webcast on October 16, 2013, to introduce NuoDB Blackbirds Release 2.0. The new release is a major enhancement of the company's original release made generally available earlier this year.
The new release offers over 200 new features and improvements over previous versions.
Customer builds global business on NuoDB Geo-Distribution
The one-hour webcast will also highlight a recent customer deployment of a single, logical database in multiple geographies across the AWS (Amazon Web Services) cloud. The customer, Fathom Voice, is a software-as-a-service company that helps businesses communicate and connect better with their customers. Fathom Voice provides voice-over-IP, analytics, conference bridges and a variety of other essential applications to a range of customers on a global basis.
In addition, Amazon Web Services Head of Global Emerging Partners, Zoltan Szabadi, will speak at the event on the importance of the cloud in deploying global applications.
Attendance is free but registration is required; it can be found at http://www.nuodb.com/blackbirds.
There will be an open question and answer period at the conclusion of the event.
Supporting quote
"We have been talking since early in our history about the fact that NuoDB's patented distributed architecture was specifically designed to support true global distribution of a database. Often the response from industry experts has been "that's impossible," stated Dr. Michael Waclawiczek, NuoDB Vice President of Marketing and Operations.
"Now that customers have begun deploying geo-distribution, we felt that as part of our Release 2.0 launch it was time to demonstrate and discuss how NuoDB enables global applications in a way no other vendor can."
About NuoDB
Everyday businesses face serious challenges coping with application performance, maintaining business continuity and gaining operational intelligence in real-time. NuoDB leads the industry with a distributed database proven to solve these challenges at global scale.
NuoDB provides a unique combination of scale-out performance, zero downtime and geo-distributed data management. It's an RDBMS that handles transactions, interactions and observations anywhere. In the datacenter, in the cloud, across clouds.
Launched in 2010 by industry-renowned database architect Jim Starkey and accomplished software CEO Barry Morris, the company is based in Cambridge, MA. Used by more than ten thousand developers worldwide, NuoDB's customers include automotive after-market giant AutoZone, NorthPoint Solutions, Fathom Voice, Platform 28 and other innovative companies.
The company is the recipient of numerous, prestigious industry awards including The Red Herring Top 100 and 2013 Gartner Cool Vendor. http://www.nuodb.com