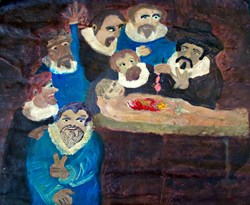 ... In painting, I can let that all go, and just say what I feel
London, UK (PRWEB) September 27, 2013
Balmoral Capital Holdings Inc. has two divisions, Renewable Energy and the newly acquired Arts & Entertainment division, with partnerships around the globe, celebrating over 25 years of growth and innovation. Balmoral is a group of professional financiers who pursue mergers and acquisitions, film projects, Video game projects, clean energy, and renewable technology projects in need of financing.
The projects must follow Balmorals business model. Balmorals business model requires a project to have 30-50% of funding in equity before they will move forward with the project. Balmoral Co-invests rather than take all the risk, which has been proven to be successful with Renewable Energy and Film projects. Balmoral's Vice president Samuel Kincaid said "We are aiming to bring this financial model to all facets of art, entertainment, and emerging technologies." which leads them to London, a known hotspot for Art.
"Unfrozen" is an art exhibition compiled of 77 paintings by Rodney Lee Kincaid and will be available for viewing October 18th-20th from 9:00am-9:00pm. Location is at the Melia White House on Albany St, Regents Park, London NW1 3UP, United Kingdom. There will also be a reception after each showing to guests who contact Samuel Kincaid at samuel(at)balmoralfinancial(dot)com.
Rodney Lee Kincaid, CEO and President of Balmoral Companies day job primarily consists of funding films and new energy resources as well as assisting medical charities. Kincaid explains the impetus for his painting. "The very act of painting is the experience itself. Every time I paint, I am laughing my ass off. I am no natural genius... it's getting emotion on a canvas to say something. I want people to think. In investment banking, I must express my ideas and negotiate both sides have an agenda. In painting, I can let that all go, and just say what I feel."
Kincaid draws on 7 to 12 point canvases, and he has introduced stain, oil paint, acrylics, house paint and other mediums. He has also come to implement small mirror fragments in his characters' eyes sockets, and thusly, creating the effect that the viewer is seeing their own reflection in the subject's soul. His unique renderings are stretched, framed and currently hung in three galleries including, Gallery 19 at Kensington Court in Central London, the Daggett Gallery in the Notting Hill section of London and in his own Balmoral Art and Entertainment Gallery in Ohio.