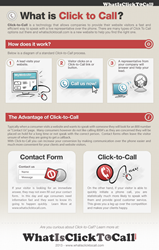 70% of consumers will pay more for better customer service.
San Francisco, CA (PRWEB) September 27, 2013
As 2014 draws closer, small businesses are making the move to click to call (aka click2call or 'click to talk') systems after major market research companies released data to show consumer customer care expectations are rising and that the technology significantly improves lead conversion rates.
Research shows that 29% of businesses are currently investing in systems to improve the customer experience and click to call is leading the way. With an extensive survey from American Express showing that 70% of consumers will pay more for better customer service, click-to-dial phone systems represent a solid investment. Forrester reported that: "Outbound communications technology will also be more deeply integrated into the contact to support closed-loop scenarios where customers want connect to an agent after receiving a message".
After Forrester itself implemented a click to call system, it enjoyed a 143% ROI expected to translate into $2.5 million in additional revenue over 3 years.
How the Click to Call Comparison App Works:
As with all telecoms, different companies require different phone system specifications. With a few clicks of the mouse, Whatisclicktocall.com visitors will be able to filter click to call companies based on requirements such as chat, ticket systems, inbound/outbound features, free trials, notifications and call tracking.
Once suitable suppliers are found, an overview of each is provided, telling the visitor all the necessary info about the individual click to talk services.
Visitor Attention Spans in Click to Call Lead Generation:
In addition to improved customer care for visitors clicking to call a company, the technology also has significant advantages for bounce rates and conversion rates. It's this win-win aspect of receiving calls from clicks that's creating so much buzz.
When a visitor visits a landing page, it's estimated the average attention span to grasp the offer and take action is around 7 seconds. This is approximately the length of time taken to dial a phone number manually, but now one click can be made for a superfast callback in less than a second.