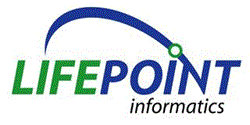 Where Performance and Reliability Meet
Glen Rock, NJ (PRWEB) September 29, 2013
Exhibiting its breadth of IT solutions for healthcare firms, Lifepoint Informatics is exhibiting at the MGMA 2013 Annual Conference in San Diego, Oct. 6-9. One of the largest professional developments and healthcare management conferences for medical group administrators, the Medical Group Management Association (MGMA) Conference is dedicated to networking, education and growth in the healthcare industry. The theme of this year's conference is "Meet Practice Success Face to Face."
With Lifepoint Informatics and thousands of administrators, physician executives, CEOs and COOs from various specialties across the country, the conference brings together leading healthcare professionals interested in enhancing their knowledge and skills.
"We always enjoy interacting and educating medical group administrators from a variety of fields, disciplines and locations across the country," said William Seay, ceo, Lifepoint Informatics. "Lifepoint Informatics is dedicated to helping healthcare providers improve patient care and decrease costs through information technology, and conferences such as the MGMA event give us the opportunity to serve as a resource and connect with individuals and organizations that can really benefit from our IT healthcare solutions."
Lifepoint Informatics helps customers integrate disparate healthcare information systems and improve the communication, accuracy and flow of clinical information. Lifepoint's solutions can improve the quality of patient care at a reduced cost, achieving positive return on investment.
Conference sessions this year focus on academic practices, alignment and integration strategies, compliance and risk management, government affairs, health information management, innovation, leadership, patient care and quality, professional and staff development, revenue and cost strategies, student/faculty topics and more.
MGMA-ACMPE is the premier membership association for professional administrators and leaders of medical group practices. In 2011, members of the Medical Group Management Association (MGMA), and its standard-setting body, the American College of Medical Practice Executives (ACMPE) voted to merge to form a new association, MGMA-ACMPE. Since 1926, the Association has delivered networking, professional education and resources, and political advocacy for medical practice management.
About Lifepoint Informatics
Lifepoint Informatics is a leader in healthcare IT focusing on laboratory outreach connectivity, health information exchange and clinical data interoperability to help healthcare providers improve patient care and lower costs through the use of information technology. Since 1999, Lifepoint Informatics has enabled more than 200 hospitals, clinical labs and anatomic pathology groups to grow their market share and extend their outreach programs through the deployment of its ONC-ATCB certified Web Provider Portal and its comprehensive portfolio of ready-to-go EMR and EHR interfaces. For more information, please visit http://www.lifepoint.com.