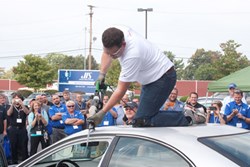 The response to our trade show proves that manufacturing is alive and well in Northeast Ohio.
Cleveland, OH (PRWEB) September 30, 2013
On Thursday, September 19th, JIS welcomed over 300 customers to their facility for the 2013 Innovation, Education & Technology Trade Show. The tabletop show included 43 leading cutting tool industry vendors who exhibited products and technologies to help customers excel in the cutting tool business. The Seminar Series included speakers from 11 companies – including industry heavy hitters Advanced Chemical Solutions, Auto Crib, Guhring, ISCAR, Ingersoll, Tungaloy, Jergens, LMT Tools, Lenox, Norton, and SECO – who presented on a wide variety of topics. More than 200 visitors took part, most attending at least two seminars during the day. The Innovation, Education & Technology Trade Show is a totally free event for JIS customers.
Despite the recent recession in the manufacturing sector which resulted in major customer staff reductions, many visitors noted that it was important for them to take time away from the shop to attend this event, which allowed them to network with a large number industry suppliers, and attend a variety of educational seminars. "The JIS IET Show is the only event of its type in the Midwest. We were proud that so many of the cutting tool industry suppliers joined us to put on a first class trade show and seminar series for our customers. The response to our trade show from both exhibitor and visitor perspectives proves that manufacturing is alive and well in Northeast Ohio," says Matt Schron, JIS general manager.
Visitor registration opened with a crowd at 9 a.m., and traffic was steady through the day. Customers visited supplier exhibits in three locations – in the exhibitor tent outside, in the JIS showroom and upstairs in the Jergens gathering room. Mobile showrooms were on hand from DE-STA-CO and Royal Products. The highlight of the day was a live demonstration by Lenox, who cut a car in half in less than two minutes using a high performance, premium bi-metal saw blade product. Many visitors took advantage of one of the five Jergens facility tours, and a chicken and ribs lunch was enjoyed by all. Most suppliers raffled off door prizes, which included a wide variety of high value items such as iPad Mini's, sporting event tickets, gift cards to stores and restaurants, clothing, tools, sporting gear and more.
The Innovation, Education & Technology Trade Show will continue as a bi-annual event, with the next show being planned for Fall 2015.
About JIS
JIS, Division of Jergens, Inc., is Ohio's largest, most technical distributor of metalworking products, with quick delivery and a 1,000-square-foot showroom representing over 300 of the top manufacturers in the United States. The company's website offers online ordering capabilities to customers nationwide. JIS is a division of Jergens, Inc., leading manufacturer of standard tooling components, fasteners, hoist rings, vices, and other work holding equipment. For more information, please contact JIS at Jergens Way, 15700 S. Waterloo Road, Cleveland, OH 44110-3898. Phone: 216-486-2100 or Toll-free: 888-486-2100; Fax: 216-486-5014.