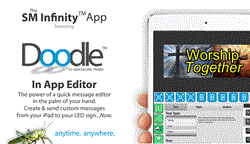 Corona, CA (PRWEB) September 30, 2013
Spectacular Media announced today that it's flagship product, SM Infinity™, is getting a brand new, much anticipated feature named Doodle™. With an already robust content creation service, and 24/7 access to their LED signs, users can now create their own media inside SM Infinity™ itself with the Doodle™ editor. It's immediately available on the iPad and iPad Mini, and will soon be available on the SM Infinity™ website.
"It's something we've wanted to do since the beginning," explained Steven Lopes, lead developer on the project, "but we wanted to make sure we did it right, while maintaining a certain level of content quality."
The SM Infinity™ platform was introduced earlier this year to provide a much needed boost to the outdoor digital signage market, still dominated by localized software installations. With the rest of the world moving to the cloud, the LED sign industry has been somewhat behind the times and SM Infinity™ is currently one of the only options available to control outdoor digital signage from the internet.
According to Spectacular Media, SM Infinity™ was created to address needs the industry wasn't providing like a streamlined professional content creation service and sign control over the internet, regardless of the display manufacturer. Although many in the industry have talked about a cloud-based solution, Spectacular Media made it a reality with help from Vantage LED, a California-based LED sign manufacturer.
"It's a single point of control for everything you want to do on your LED sign," said Scott Hofheins, Project Manager for Vantage LED, "we have a professional content creation service, scheduling, sign management, online content library, and now a built-in editor, it's a complete package for our users."
The new Doodle™ editor integrates directly with the SM Infinity™ app allowing the user to create Doodle™ "projects". The editor provides built-in fonts designed to maximize the readability of text on outdoor digital signage and includes an outline effect to enhance the contrast of the text. Full RGB controls are easy to set for both text and background colors, and images can be added directly to the background from the user's SM Infinity™ online library. This library includes media created by SM Infinity™ designers, and any media uploaded by the user directly from their iPad or computer.
"We didn't set out to replace design software like Photoshop, that wouldn't make sense," said Lopes "Those programs are great and SM Infinity™ still supports files exported from any of them into the online library. But Doodle™ adds the ability to quickly create colorful and easy to read messages on the LED sign through the web, while still maintaining a high level of content quality."
The interface is clean and simple with buttons to align and resize objects, zoom in/out, and undo/redo changes. Sliders are provided for most settings to allow quick input, and a traditional layer panel helps keep objects organized. After editing is complete, users can save the project, and it's automatically added to their online library for use on the LED sign.
"There are so many benefits to developing in the cloud," explained Hofheins. "We can get feedback directly from the users and implement changes immediately, users get access to their LED sign 24/7 from anywhere in the world, and you have so much more access to data online that the LED sign can utilize, like amber alerts, weather, stocks, etc...it's really just the beginning."
Doodle™ is available immediately on the iPad and iPad Mini through the App Store. Spectacular Media reported that the web version will be implemented very soon. More information on SM Infinity™ can be found at http://www.sminfinity.com.