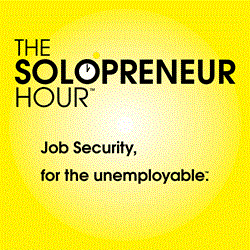 My aim is to provide real actionable steps and techniques for those who are either considering or committed to fulfilling this dream of solopreneurship...
San Diego, CA (PRWEB) September 30, 2013
After only 30 days of airings, The Solopreneur Hour™ podcast (http://www.solohour.com), whose positioning is "Job Security…for the Unemployable," has been ranked among the Top 10 Podcasts in the Business section on iTunes and is enjoying an impressive number of five-star reviews by its new audience of loyal followers.
Created and hosted by the already much-followed Michael O'Neal, producer of another top-ranked podcast, The Kickass Life™ with David Wood (http://www.thekickasslife.com), The Solopreneur Hour taps into a fast-growing audience of individuals of all ages and walks of life who are committed to transforming their professional paths—striving for greater purpose, fulfillment, impact, and long-term security. 
The show features a wide range of the best and brightest solopreneurs, including network and internet marketers, musicians, fitness gurus, actors, serial innovators, comedians, and more. As part of its launch, featured "co-hosts" have included: John Lee Dumas, Pat Flynn, Derek Halpern, David Roth, Cliff Ravenscraft, and Lisa DeMayo. As O'Neal says, "These individuals are true iconoclasts—they've 'zagged' while their peers have been content to 'zig.' In that way, they find themselves 'unemployable' in traditional jobs."
O'Neal defines a "solopreneur" as someone who's trying to build a life that's anchored by truly meaningful engagement, plenty of personal time, and yes, financial freedom.  He's quick to point out a key trait is that they're fiercely independent in their vision and desire to "go it alone." He states: "solopreneurs are driven by their unrelenting yearning for self-actualization and self-reliance, not just self-employment." He emphasizes that this last trait is the biggest difference between solopreneurs and entrepreneurs and that his audience makes this choice not because of a challenging job market but because of a kind of "calling."
The format for the podcast has been touted as one of its most stand-out features. O'Neal structures each session as a kind of free-flowing conversation with various guests, whom he calls "co-hosts." His approach allows for candid and often amusing storytelling, yet he's quick to stop the conversation to tell his listeners: "Get out your Evernote™ and jot this down immediately; that's a fantastic point." 
O'Neal's mission in launching this podcast is succinct: "My aim is to provide real actionable steps and techniques for those who are either considering or committed to fulfilling this dream of solopreneurship but to also have a few laughs and hear a lot of fascinating stories along the way."
In terms of providing practical steps and tools, each of The Solopreneur Hour podcasts and the online write-ups O'Neal features after they're aired provides listeners with suggested books, articles, smartphone apps, websites, training courses, strategies and stories that provide support through every step. 
For more information, please visit http://www.solopreneurhour.com or find it on iTunes at: http://solopreneurhour.com/subscribe; on Facebook at http://www.facebook.com/solohour; or on Twitter at http://twitter.com/solohour; or by email at michael(at)solopreneurhour(dot)com.